Last but not Least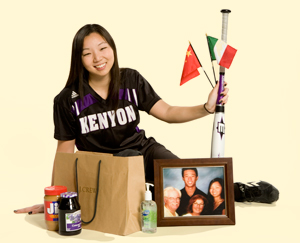 Elizabeth Refsnyder '10 didn't have much interest in Kenyon. The softball player from Laguna Hills, California, was worn out from nine previous campus visits and Kenyon was last on her list. She did eventually set foot in Gambier and promptly changed her mind. The relaxed and receptive atmosphere made her feel at home and she jelled with her prospective teammates, even though they accidentally lost track of her and unknowingly gave her a leaky air mattress to sleep on that night. Through it all, she survived. And so did Kenyon as her top choice.
Over the next four years, Elizabeth flourished. She became a psychology and religious studies major, as well as an instrumental player in the Ladies softball program. A speedy right fielder, Elizabeth compiled a .295 batting average through her first three seasons. In that same span, she scored 50 runs and stole 17 bases.
She still jokes about the misadventures of her prospie visit, but now with the perspective that it led to great friendships and great memories. Here's a look at what makes this student-athlete tick and some of the memories she'll carry past graduation.