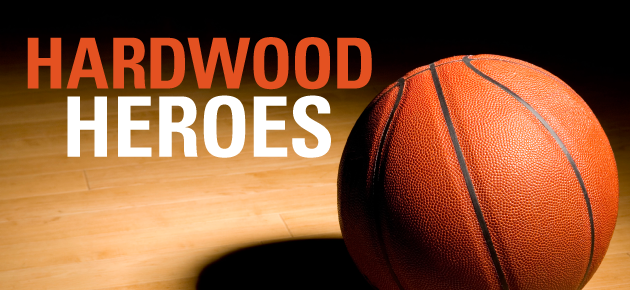 Sixty-five years ago, I played on what might have been the worst basketball team in the history of Kenyon sports. The College's 1944-45 wartime team lost every game we played, except one—and how we managed to win that one game will forever remain a mystery.
Like many small colleges, Kenyon during World War II was hard-pressed to field competitive teams. The problem, of course, was the size and composition of its student body: fewer than a hundred men, most of whom were either of pre-draft age or deferred from service for physical reasons.
The football team of that year also endured an ugly season. We—yep, I was a 140-pound, second-string halfback/linebacker on that team—lost the three games we played, all by substantial margins.
The same man coached both football and basketball. He had taken over the football duties for the season's final two games, replacing our regular coach, Rudy Cutler, who had been called into service. Rudy, a 1926 Kenyon graduate and director of athletics for sixteen years, was a legendary figure in the development of Kenyon sports.
His successor, Bill Lange, was a stocky, gravel-voiced man in his mid- to late forties, with an impressive résumé. He had been basketball coach at the University of North Carolina and, before that, director of athletics at Muskingum College.
Once the football season ended, Coach Lange issued a call for basketball tryouts. Ten of us turned out. Our best players were Richard C. (Dick) Roberts '47 P'73, Charles R. (Chuck) Allen '47, Lane Wroth '47, and Ed Young*. Roberts was our big man, well over six feet. Allen was our shooter: pass him the ball and, from virtually anywhere on the court, he would shoot. Wroth was an experienced ball handler. If we had a star, it was Ed Young, who had a fine all-around game—he could shoot, drive, and defend, a combination of skills that most of us sorely lacked. Besides the four regular starters, there were Bruce Bell '49 P'74, Allen (Al) Allured '48, Richard A. (Dick) McClave '47, James William (Neil) Pratt '47, Kevin (Oda) O'Donnell '47, and myself. Some had played in high school, some—like myself—had not.
Coach Lange brought us along gradually in practice. He must have realized instantly that he had very little to work with, but he may not have been fully aware of the depth of our ineptitude until Gambier High School, with a total student body of perhaps forty, trounced us twice in practice games.
We opened with two exhibition games, the first against a Navy team from Cleveland which beat us by at least thirty points. Our next opponent was a team from a defense plant in Mount Vernon. We managed to defeat them, not necessarily because we were better but because we were younger and in condition. Most of the plant's players were men in their thirties or forties and out of shape for a forty-minute basketball game.
Our season opener was against Ashland College. We lost. We also lost to Wittenberg, Otterbein, and Capital, once to Capital by almost 50 points.
The season ground on until our game with Kent State at Kent, on January 16, 1945. Kent State's enrollment at the time was easily six or seven times Kenyon's, and its teams played more difficult schedules.
Somehow we jumped off to a 10-point lead. But Kent State caught up and the score remained close. In the final minutes Kent State took a 2-point lead, but Roberts was fouled on a field goal attempt and sank one of his two free throws to cut the lead to a point. Kent State tried to run the clock out, but turned the ball over. With less than a minute to play, Coach Lange called a time-out and instructed us to hold the ball for one last shot.
We were able to hang onto the ball with the clock ticking down (this was long before the 35-second clock). Finally, Allured, out near the center of the court, looked to pass off, then—perhaps panicking—let go a long and low-trajectory set shot. Amazingly, the ball went in, and by the time Kent State was able to put the ball back in play, time had expired. We had won, 30-29. We mobbed Allured and made our way to the locker room through what must have been a stunned Kent State team.
To celebrate his first win at Kenyon, Coach Lange treated us to a chicken dinner on the ride back to Gambier. He even bought Allured a cigar.
We lost our next game—in a return match, Kent State beat us by 20 points at Rosse Hall—and every game thereafter until the season mercifully ended.
Coach Lange held the post-season party at his home. His wife was a gracious hostess and President Chalmers, Dean Brown, and Professor Timberlake were among the guests.
As we were leaving, the coach, with his frustrations now over and in an almost jovial mood, shook hands with each one of us at the door. He wished me good luck in the service. I was due for induction in a matter of weeks.
Outside, in a light snow, we linked arms and marched up Middle Path to our divisions, singing some of the songs we sang every Saturday in the dining hall. The season, and the losing, were over. The winter quarter would end within the week and some of us were headed for an uncertain future in the service. Yes, we were a lousy team, but hadn't we beaten Kent State? At Kent State? No one could take that away from us. And after sixty-five years, that one extraordinary victory still stands.
After serving in the Army, Larry Howe returned to Kenyon in February 1947. He left the following year and earned his bachelor's degree from Stanford University in 1951. In his career, he worked as a reporter and editor on several newspapers and as a sports information director and journalism instructor before joining Rochester Telephone Corporation, where he retired in 1992 as corporate communications director. He and his wife, Barbara, live in Webster, New York.
* No information on Ed Young could be found. Please contact the Bulletin if you can provide his full name, graduation year, or other information.