Alumni Digest
It's your story. Tell it!
For the Class of 1952, it might be a group of Lake Erie College students arriving for a Saturday night dance. For '73, maybe it's the formation of the Peeps O' Kenyon; for parents in '78, the snowstorm that left their kids stranded. For the Class of 1986, it might be the construction of Olin Library; for '05, David Foster Wallace's unforgettable Commencement address.
We all have our Kenyon stories. We share them with a compulsion that rivals the Ancient Mariner's, and we recognize the tropes of life at Kenyon in their retelling. Each tale resonates as a personal, unique connection to a beloved place.
For the first time, members of the Kenyon family have a place where they can easily share their stories with the rest of the community. The Web site of the Kenyon Stories Initiative, at kenyonstories.blogspot.com, made its official debut at Reunion Weekend 2010 in June.
Spearheaded by Alumni Council, the Kenyon Stories Initiative collects and preserves these stories. An effort that has involved several years of work by council members and College officials, the initiative began in 2006, when ­council member Doug Downey '51 brought ­together several alumni to reminisce, in writing, about their mid-century days at Kenyon. Part of this collaboration appeared in Downey's Last Page essay, "Of Pranks and Songs and Sodden Peep Nights," in the Winter 2008 Bulletin.
Since then, the story-gathering initiative has recorded oral histories in audio and video form. Archon and Brothers United alumni were interviewed on film at Reunion Weekend 2007, and Todd Leavitt '73 and Bonnie Levinson '73 recorded more than thirty hours of their classmates' memories during Reunion Weekend 2008. Videos of the Class of 1973 are available online at vimeo.com/channels/theliberationclass.
Although the College has long collected stories in its archives, the Web site of the Kenyon Stories Initiative makes the collection and sharing of these stories much easier. "Our hope," says Alumni Council President Emily Resnik Conn '85, "is that the stories already available will spark memories for others, who will in turn share them with all of us."
Tell your story!
Do you have a Kenyon story to share? Photographs of your college days? Or do you just want to read what others have to say? The Kenyon Stories Initiative Web site is now open at kenyonstories.blogspot.com.
All submissions to the initiative will be considered for posting. As you spin your tale, be creative but also be as concise as possible. Submissions will be edited for accuracy and, if necessary, for length before being posted.
And the Winners Are...
he votes have been cast, the ballots have been counted, and the results for the 2009-10 Alumni ­Council and alumni trustee election are in. Joining Alumni Council ­for three-year terms are Joe Gioia '77, Gay Garth Legg '73 P'05,'09, Harley Henry '59, and Larae Bush Schraeder '97. ­Elected to four-year terms as alumni trustees are Rich Alper '71 and Pierce Scranton '68 H'09 P'97.
The election process begins again for the 2010-11 academic year. Alumni Council ­invites all alumni to nominate one or more candidates for election to the Alumni Council for a three-year term or to the Board of ­Trustees for a four-year term commencing in 2011. You may nominate a friend, a classmate, or yourself. All suggestions receive careful consideration by Alumni Council.
Alumni Council meets at Kenyon three times a year to discuss programs and issues that directly affect the College and its alumni. The group provides direct feedback to the Kenyon administration regarding alumni issues, determines the slate of candidates for the annual elections, and determines the award recipients recognized at the annual awards luncheon ­during Reunion Weekend.
The Board of Trustees also meets at Kenyon three times each year and provides ­strategic direction to the College. The work of both groups is conducted in committees.
Please send nominations and supporting information to Lisa Schott '80, director of alumni and parent programs, Kenyon College, Gambier, Ohio, 43022-9623 or by e-mail to schottl@kenyon.edu by July 30, 2010.
For additional information on the activities of the Alumni Council, visit www.kenyon.edu/alumnicouncil.xml.
Networking in L.A.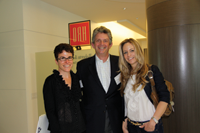 A who's-who of Kenyon alumni and parents offered their expertise to students and fellow alumni at a networking and mentoring brunch in Los Angeles, California, on March 13. Mentors attending the event included Howard Askenase '70, Todd Behrendt '92, Margaret Cranston '82, Ruth Esseln '94, Samie Kim Falvey '96, Catherine Fellowes '91, Ed Hersch '69, Lauren Leavitt P'10, Todd Leavitt '73 P'10, Bryan Merryman '84, Kevin Mills '92, Rick Ripley '72, and Emily Yukich '82.
High Fraternity Honors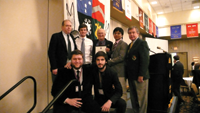 Professor of Biology Emeritus Robert Burns was awarded the Distinguished Service Chapter Award by the Delta Tau Delta fraternity in January 2010. Burns, who served as chapter advisor at Kenyon, was given the award for his longtime service to the College, Chi Chapter, and the fraternity. The award is the highest honor given by the fraternity. Honoring Burns (top row, center) were (­bottom, left to right) Zach Moore '12, Zuka Margvelashvili '12, (top, left to right) chapter advisor Drew McFarland, chapter president James Beckett '11, Alex Zhao '10, and Delta Tau Delta representative Tom Calhoon.
A Birthday Surprise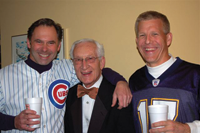 In February, Joe Hall '52 stopped in late to his daughter's surprise fiftieth birthday party in Cary, North Caroline, after a formal evening at the North Carolina Opera Ball. The party theme-in contrast to Hall's formal wear-was sports, and the attendees were decked out in their athletic finest. Hall met several of his daughter's friends and neighbors and was surprised to find that two were fellow Kenyon alumni-and, in keeping with the theme of the night, were both swimmers from the College's 1981 championship team. Pictured with Hall are Donald L. Shupe '81 (left) and William H. Derks '81.