Cosmic Explorer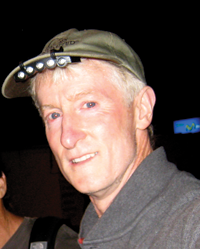 In the immortal words of Star Trek's Captain Kirk, Thomas Lucas '75 is on a mission to "explore strange new worlds ... to boldly go where no man has gone before." Unlike Kirk, however, Lucas has taken millions of people along for the ride.
Lucas, of Thomas Lucas Productions, Inc., in Ossining, New York, has made more than two dozen television documentaries for PBS (the Nova series), Discovery Channel, and National Geographic Channel (the Explorer series), thrusting viewers into deep space and the deep sea. His subject matter ranges from the cosmological (black holes) to the terrestrial (dinosaurs), united by the physical sciences.
For many of his high-end specials, Lucas collaborates with scientists to create computer animations that visualize phenomena such as the expansion of the universe. His approach leans heavily on "computational science," a method of investigation analyzing mathematical calculations to construct computer models of gravitational waves or the birth of stars. "This is being done in all of the sciences and has to do with the increasing capability of computers to crunch numbers," Lucas said.
The history honors program at Kenyon developed his research and writing skills. "It taught me to dig deeply into a subject, exactly what I do in my filmmaking," he said. After Kenyon, Lucas attended the film school at Columbia University and began his professional career making television commercials. His 1985 documentary Tornado! scored big ratings for Nova, won first place in the New York Film and Television Festival, and inspired the 1996 Hollywood feature Twister. "Tornado! has become a Nova classic and put me on the national and international scene as a documentary filmmaker," Lucas said. "Other than being the first major movie about tornadoes, it inspired a generation of storm-chasers."
Other career highlights include Mysteries of Deep Space (1997), a three-hour PBS series that capitalized on the public interest in astronomy generated by images from the Hubble Space Telescope, and Black Holes: The Other Side of Infinity, a big-screen planetarium show funded by NASA and the National Science Foundation and narrated by Liam Neeson. Married and the father of two boys, ages 10 and 12, Lucas recently began producing science-based programs for the video-sharing and distribution Web sites YouTube and Hulu.
Lucas sees himself as more of a journalist than an educator or entertainer. "There's a lot happening in the physical sciences right now that is redefining our view of society, the world, and the universe," he said. "I think it is interesting to follow and chronicle these new discoveries."
-Dennis Fiely