Margaret Maloney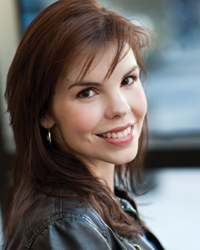 When Margaret Maloney '96 was growing up, she had trouble concentrating when she read. To liven things up, she would read aloud, playing with different voices and accents. Little did Maloney know that after she graduated from college, she would have a career doing just that.
For the past eight years, Maloney has pursued a successful career as a voice-over actress. It wasn't exactly the future she had planned. But now, the 36-year-old New Jersey native says, she couldn't imagine doing anything else.
"I've always had a good ear for different accents and dialects," says Maloney. "When I was in high school and college, I was encouraged to do something with my voice. I always knew this was a career that was out there and it's been this extremely cool job to end up doing."
After graduating with a degree in English, Maloney took behind-the-scenes jobs with the Shakespeare Theatre in Washington, D.C., and with Warner Brothers in Los Angeles before moving to New York, where she currently lives. Remembering the encouragement of retired drama professor Harlene Marley, in 2003 Maloney decided that it was finally time to use her vocal talents. She enrolled in voice-over classes and made a demo tape that was sent to an advertising agency. A year later the agency called her back and asked her to record a commercial for Verizon Wireless. It was broadcast on television the next day.
Since then, Maloney's career has taken off. She has recorded audiobooks as well as commercials for a range of household-name companies, including Lean Cuisine, Airwick, and Stouffer's. The life of a voice-over actress varies from day to day, she says. At a typical recording session, she is handed a script she's never seen before and is asked to read it a number of times in different ways. Sometimes the process can take as little as ten minutes, Maloney says, sometimes much longer.
Maloney, who says she was always too shy to pursue acting, is grateful that she was nudged toward a career that has kept her out of the public eye and in the public's ears. She has Professor Marley to thank for that.
"In some of our classes, we acted a little but I was always most comfortable giving speeches," says Maloney.
"One day in 'Voice and Diction,' Professor Marley said to me, 'you really have a gift and you should explore it.' It meant a lot to hear that, as she was someone I really admired. And here I am today, doing voice-overs for a living."
-Andrew Clark