Rebecca Dash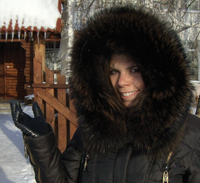 In Spain, her research subjects wanted to speak Russian.
In Russia, her subjects insisted upon Spanish.
Rebecca Dash '07 was happy to oblige in either language.
"When I spoke Russian they could tell I had an accent, and when I spoke Spanish I made grammatical mistakes, which is one of the challenges of speaking more than one language. It can get confusing," Dash said.
At Kenyon, Dash majored in modern languages and literatures and in mathematics. She studied abroad in Madrid in 2006 and became a Fulbright Fellow upon graduation. She taught and conducted research for a year in Samara (on the Volga River) before accepting a two-year post as a Fulbright program officer in Moscow.
"I received a study grant during my junior year to research the children of the Spanish Civil War. Orphans from the war were sent to several European countries, Cuba, and to the Soviet Union between 1936 and 1939. About 3,000 were sent to the Moscow region," Dash explained.
"After the Civil War ended, the Soviet Union wouldn't let the orphans return to Spain because it was a fascist country. There was a short window for the orphans to return to Spain about 15 years after they'd arrived in Moscow. Some returned. Some stayed in Russia."
When Dash left Monument, Colorado, for Gambier and Kenyon, she immediately became acquainted with that force of nature called Natalia Olshanskaya, professor of Russian.
"Natalia was my advisor and she is a very powerful, very opinionated person," Dash said admiringly. "I didn't really have many choices to make because she knew what was best for me. So I took math classes my first three semesters because she wouldn't let me focus only on Spanish or Russian."
When Dash decided to study in Madrid during her junior year, Olshanskaya had only one question, according to Dash: "How are we going to get you to Russia?"
Enter the Fulbright program.
"Probably the most important thing I learned, at least while I was in Russia, was that it's not always best to color code everything," Dash said. "Some of the coolest things I did simply popped up."
Dash also learned to respect the idiosyncrasies of her adopted languages.
"I met a woman at a lecture I gave and she invited me to have coffee. She gave me her number and on a Friday her husband came to get me. We drove and drove and drove and the sun was starting to set and I asked him, 'Um, where are we going?'
"He said, 'Why, we're going to our house in a village outside Samara for the weekend.' It was nearly to the border of Kazakhstan, more than three hours from Samara! That's not what 'having coffee' meant to me. All I had for the weekend was a bottle of wine and my purse. He'd joked when I got into the car that I packed light."
Dash earned a master's degree in International Education Policy from Harvard and is enrolled at Johns Hopkins University in International Relations.
-Bill Eichenberger