A Wizard with Wood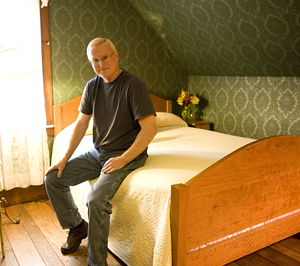 After taking a class at Kenyon's Craft Center, Professor of History William B. Scott began making furniture at age fifty as a break from the rigors of academia. "I loved working with my hands, and as a teacher and a writer there is not much opportunity to do that," he said. In the ensuing fifteen years, Scott has crafted about a hundred beds, tables, chairs, and other pieces that grace his home and others in the area. He recently finished a bed for the Gambier House Bed and Breakfast that ranks among his favorite creations.
Scott fashions his furniture from "Kenyon oak" and cherry. Taking most of his lumber from local trees felled by storms, he works closely with his customers--friends and friends of friends--to customize each piece. "Some of the College oaks are hundreds of years old," he said. "They yield wood that's not available anywhere else." Inspired by the Shaker and Mission styles, Scott prefers sturdy, functional furniture designed without affectation. "Handmade furniture is made to last forever," he said. "There is furniture in some museums made by the Egyptians and Romans who used the same materials and techniques that woodworkers use today."
Scott works in a freestanding shop of 864 square feet with a ten-foot-high ceiling in the back of his Gambier property behind Wiggin Street School. He stores lumber in the loft and in a separate shed. "My wife thinks I'm crazy, but I could be doing worse things with my time," he said. Scott considers himself to be part of a revival in handcrafted American furniture-making. "It is something that a semi-leisured class of artisans has gravitated towards as an alternative to factory-made," he said. "There are about 200,000 Americans, just like me, who are committed to making furniture, but we don't have to charge a whole lot of money for our work because we are not dependent on it for our income."
A native of Charleston, South Carolina, Scott is an expert in American intellectual, cultural, and Southern history. In 2010, he and colleague Peter Rutkoff co-authored Fly Away, a cultural history of the twentieth-century African-American migration. He described furniture-making as a satisfying complement to his profession. "I get to become friends with people I might not otherwise meet," he said.
-Dennis Fiely