Going the Extra Mile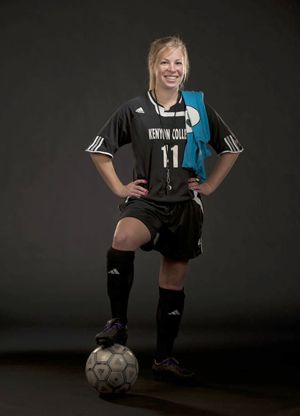 A two-time, first-team, all-conference honoree, senior Caddie Durrett has led the Kenyon women's soccer team in scoring for the past two years. With her final season of play now under way, she's poised to pen her name on the program's list of top-ten all-time leading scorers. Goals are her goal, but it's not always about the numbers. Durrett has a true passion for her sport--one that can be traced back to the first goal she ever scored. "I was five and I was terrible . . . just tripping over my own shorts. But I'll never forget the feeling after it happened. My coach picked me up, put me on his shoulders, and just started twirling me around."
From that point on, the love affair blossomed and Durrett surmised that soccer was "better than ballet or Girl Scouts." Over the years, she sharpened her skills, ran through rough spots, and kicked out a path that eventually led to Gambier. Along the way, she shaped herself not only as a strong soccer player but as a shrewd individual. Here's a sampling of her experiences.