Jersey Boys (and girls)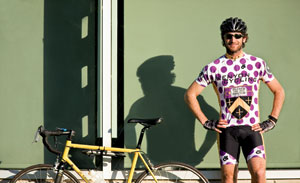 E-mailers from as far away as Texas want to know: "What are those shirts and how do I get one?" Well, they're not really shirts, they're jerseys. And they are available through the reinvigorated Kenyon Cycling Club, which is finally going somewhere slowly instead of nowhere fast.
The club made a fashion statement last spring when it designed and manufactured sportswear for its hearty band of road warriors. Popular demand encouraged the club to place another order this fall. The Kenyon Bookstore jumped on the bandwagon with its version of the apparel, due soon on shelves.
"I've received random e-mails from alumni who said, 'These are unbelievable,'" said club president and jersey designer Jamie Fishman '09. "Some of them don't even ride. They just want the jersey. But that's OK. It's good marketing."
The club based its design on the "King of the Mountains" jersey awarded to the best climbers of the Tour de France's mountain stages. The form-fitting eye-catchers ($55 each) splash purple polka dots on white, embellished with the club name, Kenyon shield, and classical Greek inscription Molon labe, a defiant rejection of surrender heard during the Battle of Thermopylae (480 BCE) that roughly corresponds to "over my dead body."
"People love the polka dots, and the Greek is a great conversation starter," said club member Brian Crosby '07. "A lot of cycling jerseys are boring, but ours is different."
The jersey sale is among several initiatives that Fishman, a classics major, launched this year to kick-start the static club. More than thirty students have expressed interest and about ten so far are active, engaging in weekly rides and an on-campus bicycle repair service to raise funds.
The addition of indoor bike trainers at the Kenyon Athletic Center has enabled members to exercise and practice year-round by converting their bikes for indoor riding and duplicating a realistic road-like feel.
The club's ultimate goal is to join the Midwestern Collegiate Cycling Conference and host races with other schools.
More than just generating revenue, the jerseys aim to boost the club's on-campus recognition, highlight a "more fun image," and recruit an increasing number of pedal-powered commuters.
"The number of bikes on campus seems to have doubled since I was a freshman five years ago, but it's so hilly around here that you have to be pretty dedicated to get off the bike paths and on the road," Crosby said.
In other words, all that's missing is an attitude. Can anybody say, Molon labe?