Alumni Digest
Ballots: coming soon to a mailbox near you
Which do you prefer: the real feel of paper, or the quick, stamp-free convenience of the Web? Whatever your preference, you can vote this month—but only once—when both print and electronic ballots for Kenyon's annual Alumni Council and alumni trustee elections arrive in your mailboxes. The paper ballot, which returned last year after a hiatus, will be accompanied by an e-mail ballot. The Office of Alumni and Parent Programs will ensure that only one ballot per person will be counted.
Members of Alumni Council meet at Kenyon three times each year to discuss programs and issues that directly affect the College and its alumni. This group provides direct feedback to the Kenyon administration regarding alumni issues. Council members serve a nonrenewable three-year term.
The Kenyon College Board of Trustees meets at Kenyon twice each year to provide strategic direction to the College as it seeks to fulfill its mission to be a distinctive liberal arts college of the highest quality. Alumni trustees serve a nonrenewable four-year term.
Alumni Council candidates include Henry Steck '57, Bruce Berlin '82, Jeanne Maine Top '84, Marguerite Bruce Doctor '85, Marshall Chapin '94, Margaret Scavotto '02, and Eric Raicovich '05.
Alumni trustee candidates include David Cannon '73, Mary Kay Karzas '75, Janet Heckman '76, and Mary Beth Stephens '86.
All candidates are nominated by Alumni Council.
Two Schools in Common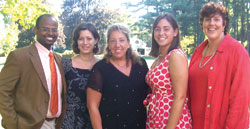 When Jenny Stern '08, James Greenwood '02, Heather Ringwalt Sullivan '93, Margaret Van Baaran '86, and Ellen Turner '80 discuss their school, they might be talking about either their alma mater or their employer. These five Kenyon alumni have found themselves working together at Northfield Mount Hermon School, a private 9-12 school in western Massachusetts. Stern is a history and social sciences psychology intern at the school, Greenwood is director of multicultural education, Sullivan is director of communications, Van Baraan is director of the learning skills program, and Turner is director of student services. (In the photo, from left to right, are Greenwood, Sullivan, Van Baaran, Stern, and Turner.)
Save the Date
Thursday, February 26
Washington, D.C., Annual Regional Gathering
Tuesday, March 3
San Francisco, California, Annual Regional Gathering, with a Learning in the Company of Friends lecture by Associate Professor of Classics Adam Serfass
Thursday, March 5
Los Angeles, California, Annual ­Regional Gathering, with a Learning in the Company of Friends lecture by Associate Professor of Classics Adam Serfass
A New Green Group
Alumni with a professional interest in advancing environmental causes are encouraged to join a new group of like-minded people. Kenyon Green Alumni, founded by Lee Kane '74 and Meryl Brott '91, is a group that works to provide opportunities for networking and fellowship, to help Kenyon students build environmental careers, and to advance environmental stewardship at the College. Alumni interested in joining the group can contact Brott at meryl@alumni.kenyon.edu for more information.
Lacrosse alumni take on varsity

Twenty men's lacrosse alumni returned to McBride Field but did not emerge victorious on October 4, 2008. In the men's lacrosse alumni game, a team of alumni took on the Kenyon varsity team in a friendly match. "It was a great time for alumni to connect with our players," said Doug Misarti, head men's lacrosse coach. Misarti noted that, while alumni games have been played in the past, they have never been an annual tradition. He hopes to change that, and plans are already under way for next year's game.
Dekes return to Kenyon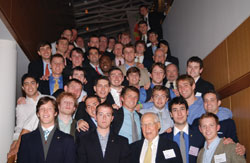 Twenty-five alumni of Kenyon's chapter of Delta Kappa Epsilon returned to the West Wing in Peirce Hall and the Deke Lodge for a reunion on October 3-4, 2008. Elected as officers of the DKE Lambda Alumni Association were James Reinhardt '02, president; Dave Sibley '06, vice president; Gregg DeSilvio '74, secretary; and Bob Heasley '60, treasurer. The event was organized by Bob Heasley, Hugh Gage '59, and students Philip Edmunds '09, Basil Kahwash '10, and Nathaniel Gray '10.
Alumni by the numbers
Every issue of the Bulletin connects you with the comings and goings of your fellow alumni. But just how many alumni are out there, and who are they?
16,039 Total number of living alumni
115 Number of current students who are parent/child legacies
1,572 Alumni married to other alumni (represented by 786 couples)
9.8% Percentage of alumni married to one another
7,166 Alumni under the age of 40 (Class of 1991 and younger)
43.7% Percentage of alumni under the age of 40
1929 Class year of Daijiro Kawasaki, the oldest living alumnus
Identified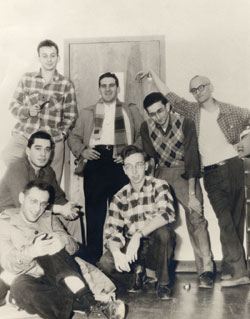 One among the group of seven Kenyon students remained unidentified when this 1952 photo, submitted by William Goldhurst '52, appeared in the Spring/Summer 2008 issue of the Bulletin. Bill Gray '54 called us after publication to identify the individual in the middle row, left, as Richard Collin '54. Collin agreed: "It sure does look like me."