PTSD Sleuth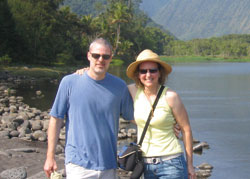 Minus the monocle and magnifying glass, psychologist Chris Frueh '85 has earned a national reputation as a mental health services detective, probing with prolific research the delivery of care to trauma survivors. His findings have not been especially encouraging for combat veterans suffering from post-traumatic stress disorder (PTSD).
"We've shown excellent treatment results for civilians with horrendous experiences such as rape, but our track record for successfully treating veterans in our VA [Veterans Administration] system is not very good," Frueh said by telephone from his office at Baylor College of Medicine in Houston, Texas.
The author of research that has appeared in more than 100 scientific publications, Frueh, 45, is widely known as an outspoken VA critic for documenting its PTSD treatment inadequacies. "I am sure there are some veterans out there seeking private care, but the VA is front and center" in the provision of PTSD services, he said.
In a paper published last December in the American Journal of Public Health, Frueh cited a "cure rate" of sixty-seven percent among civilian populations compared to "little evidence of efficacy among veteran samples," according to a recent meta-analysis. He attributes the discrepancy to outdated and "seriously flawed" VA policies that exclude veterans from clinical trials, limit their access to services, and engage them in a bureaucratic battle to qualify for disability benefits—all of which are "counter-therapeutic" and "likely undermine efforts to develop and evaluate PTSD interventions for veterans." Quoting a colleague, Frueh said, "It's hard to get better if you have to prove that you are sick."
Frueh's professional experience includes fifteen years as a staff psychologist and director of the PTSD clinic at the Veterans Affairs Medical Center in Charleston, South Carolina, and faculty appointments at Medical University of South Carolina and University of Hawaii, Hilo. He currently holds an endowed research position as a tenured professor of psychiatry at Baylor and is director of clinical research at The Menninger Clinic in Houston.
His research has been supported by numerous federally funded grants from sources such as the National Institutes of Mental Health, the Department of Defense, and the Agency for Healthcare Quality and Research. He serves on several grant review panels and regularly receives requests from the national and international news media to comment on PTSD issues.
Although the combination of cognitive behavioral therapy and medication is a proven treatment for PTSD, "it has not been well implemented for veterans," Frueh said. One problem is lack of access. Forty percent live in rural areas, removed from large mental health centers. To clear that hurdle, one of his projects at Baylor is evaluating the efficacy of "telemedicine" that links veterans to therapy from their homes via video-phone counseling.
After graduating from high school in Ann Arbor, Michigan, Frueh majored in psychology at Kenyon. He continues to correspond with Kenyon Professor of Psychology Michael Levine and mentors Kenyon interns.
He attended law school at the University of Cincinnati for one week, but returned to psychology because "I found it more intellectually exciting," he said. Frueh earned master's and doctoral degrees in clinical psychology at the University of South Florida and gravitated toward a specialty in post-traumatic stress disorder out of a desire to help veterans. His father served in Vietnam and his grandfather fought in the Spanish-American War, surviving the bloody and famous Battle of San Juan Hill in 1898. "I can remember when I was six, my grandfather, who was in his nineties at the time, telling me war stories," Frueh said.
Post-traumatic stress disorder has plagued soldiers through every war, Frueh noted. Only the name has changed. "We called it shellshock in World War I, combat fatigue in World War II," he said, "and gave it the name of post-traumatic stress disorder in 1980," when it was formally introduced into the Diagnostic and Statistical Manual of Mental Disorders.
Although Frueh is unfamiliar with 1998 Kenyon graduate Bryan Doerries's Philoctetes Project that addresses combat stress through ancient Greek plays, he said "it sounds like an interesting and valuable effort," given the timeless nature of PTSD.
Nevertheless, Frueh cautioned that "we don't want to send the message that everyone who goes to war comes back a casualty." For the ones who do, the investigator is hopeful his sleuthing improves treatment and rehabilitation. "Veterans deserve it," he said.
—Dennis Fiely