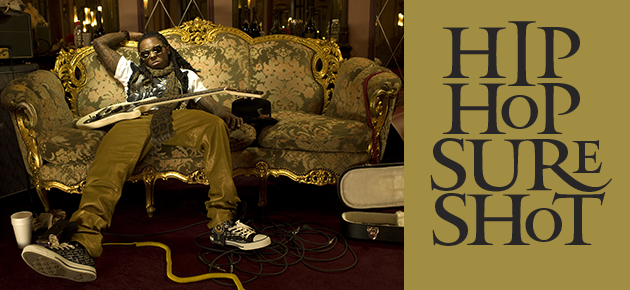 by Mark Ellis
Method Man was there. And Snoop Dogg. When Jonathan Mannion '93 slipped through a kitchen and crashed a Russell Simmons party in Manhattan in 1994, he found himself with the leading voices of hip hop. And he found himself with a camera.
By day an assistant to legendary fashion and portrait photographer Richard Avedon, Mannion was, at night, pursuing his passion for cutting-edge music. He carried a camera at Avedon's urging. "Dick taught me to always be prepared for any moment I may want to capture," Mannion said.
Shooting rising talent at shows and parties established the credentials needed for his later work with record labels. "Everybody was accessible at that time." Heavy D, Sean Combs, and Busta Rhymes, among others, became photo subjects and contacts. "Back then we were building what hip hop has become today."
Mannion went on to shoot about three hundred album covers, ranging from the Jay-Z debut Reasonable Doubt to Eminem's The Eminem Show to Lil Wayne's Tha Carter III. Exhibitions of his work have been mounted in Los Angeles, Miami, and Berlin. MTV has called him hip hop's "go-to photographer." But Mannion is more than that. He is a creative director, portrait photographer, and businessman with a Gramercy Park studio, fulltime staff, and a recent Kenyon intern.
Kenyon, after all, helped steer Mannion toward his creative destination. His connection with the College was instant on arrival-and enduring. In a recent visit to the campus, Mannion recalled his double major in psychology and art-the former a nod to a practical future and the latter an embrace of personal expression.
He "really fell in love" with photography during a senior class with Professor of Art Gregory Spaid '68. "I found it such a beautiful blend of creating something that would never be the same again, documenting a split second that was real and authentic while adding my perspective of the moment," he said. "It's my voice and at the same time a dialogue with whoever I was working with."
His senior thesis was a dialogue with the barns of Knox County. "It was a form of meditation for me, to be able to drive and be free and shoot and document," he said. Some of those shots were critiqued by Avedon, who was on campus in 1993 to receive an honorary degree. Photographs that "didn't contain life" left Avedon cold. The comments, Spaid said, were "pretty devastating." Mannion said his time in Kenyon classrooms taught him to "hold his ground" and defend his work. "That says something about him, about his determination and courage," Spaid said. "He wasn't going to let this rough critique be a setback for him."
Avedon had a history of hiring skilled Kenyon alumni, and Mannion impressed members of the Avedon crew when they found him making prints in the studio late in the evening before Commencement. He signed on with Avedon. Working with the master for a year, he loaded film, helped with lighting, "flipped cameras back and forth," and watched. "It was like theater, in a way."
Mannion then focused on hip hop immersion. He established credibility with his subjects by sharing his images and his knowledge of the music. "I could see that this movement was building and I saw that the budgets got a little bigger," he said. "But it was much more personal for me, understanding that I was connected to something special, something woven into the foundation and fabric of the culture. I was just doing it from the heart. It meant something to us."
Mannion's quick and sure commercial success is unusual, Spaid said. "The type of work he does, he does extremely well. Some of his portrait work I like is with athletes and other famous people. He's really good at that. He obviously has the kind of chemistry you have to have with your subject."
The album-cover work that has helped define the image of hip hop is based on his zeal for subject research, music study, and close contact. "This is one of the things that separates me from somebody who is just going to snap somebody against a background. I want to tell the stories."
He found a baptismal theme for a Ja Rule shoot in a Florida creek, with both men in the water. "We avoided the gators that day," Mannion said. "Call it divine intervention." Before a Big Boi session, the OutKast rapper brought Mannion into the studio to hear an entire album, and Mannion compiled pages of notes. References in the music led Mannion to recreate one of Big Boi's childhood photos, but now with the singer pictured as the parent. "There's always a story in the music," Mannion said.
Mannion and Big Boi have collaborated for a decade. "Mr. Mannion is definitely a brother of mine," Big Boi says in a video.
The photographer and the musicians share the same world. "I think we're sitting up there on top," Mannion said. "We've made an impact on how things are perceived. We're leading the trend of what's cool."
But his vision supersedes music. "I want to be remembered as an incredible photographer, one who connects with his subjects and makes classic images."
Gambier, Ohio 43022
(740) 427-5158