See How She Runs
Over the past fourteen years, Jennifer Goldblatt Van Allen '96 has run herself, if not into a new person altogether, at least into a stronger, more confident version of herself.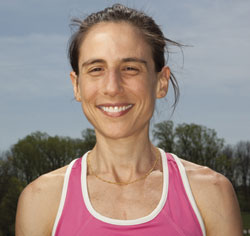 She ran the New York City Marathon, her first, in 1998, finishing in 4 hours and 51 minutes. She finished her fastest-the vaunted Boston Marathon-in 3 hours and 8 minutes. "Running helped transform me into a person I could have never even dreamed of being," she said.
Van Allen, thirty-eight, has turned her passion for longdistance running-she's run in forty-two marathons and ultras since 1998-into a career as special projects editor of Runner's World magazine. She also manages the Runner's World Challenge (an online marathon and half-marathon training program) as well as the magazine's training-plan business.
Since June, Van Allen has added "author" to her résumé, having co-written The Runner's World Big Book of Marathon and Half-Marathon Training with long-distance stars Amby Burfoot and Bart Yasso.
"I could have never imagined that my career would unfold the way that it has," Van Allen said. "But I'm so grateful that it has. I feel so lucky to be in a position to introduce people to a way of life that will help them transform themselves and discover the best version of themselves."
Although the sport can be one of isolation-picture a solitary athlete running through the fog down an empty road at 6:00 a.m.-Van Allen, who lives in Bryn Mawr, Pennsylvania, with her family, said running competitively has made her more, not less, social. "Running can be painful and humbling and frustrating," she said, "which is why runners tend to be such a warm and welcoming community. Running forced me to get out there and to be more social."
Now runners are connected through online training programs and runners' forums. As a facilitator for the Runner's World Challenge, Van Allen is part of a team of experts that has guided and encouraged more than four thousand runners through the arduous and daunting process of preparing for long-distance races.
"We're their coaches, their cheering section," she said.
An English major, Van Allen never wanted to do anything but write. And she's managed to do that for sixteen years, despite the precipitous decline of print journalism, working as a reporter for the American Banker and writers' newspapers like The Virginian-Pilot and The St. Petersburg Times . She was a columnist for the News Journal in Wilmington, Delaware, and the parents editor for KidsHealth .
"Kenyon taught me it's not that there are things out there that are inherently interesting or not; it's all about the curiosity and energy and interest you bring to it," Van Allen said. "With enough curiosity, the whole world really is your oyster."
In college Van Allen ran for exercise, but nothing like the 24-hour national championship she won in 2008, logging more than 123 miles and running her feet raw. "While I was at Kenyon, I'd run maybe three miles at a time to clear my head," she said. "I'd just head out of Mather Hall and turn right, trotting past the cows and the pastures and the hills."
Van Allen said running is the best way to get to know a new town. "The first thing I do when I'm on a trip is get up early in the morning and run to explore." GPS has helped reduce her number of "out and backs," allowing turns down any street that looks interesting. That act of exploration serves nicely as a metaphor for the way she wants to live life.
"Let life unfold organically," she said. "Chart an ambitious and audacious course, but then buckle up, and be prepared to chuck the map, and let yourself go in the direction that your gut takes you. Be curious and confident, but always humble.
"You will get enough glorious moments to keep you motivated, and hit rock-bottom enough times to stay modest. And the universe-God, Jesus, Buddha, whoever you believe in-will keep sending you pop quizzes when you least expect it, with the same questions until you get them right."
-Bill Eichenberger