Late Night Nosh
Hungry for Gunder World with a Peirce of Paradise? How about a Club Olin and a Chillander Chase? Those are just a few of the offerings on the "little taste of Kenyon" menu at Nite Bites Café, a student-owned food-service business in Peirce Pub satisfying the appetites of night owls hitting the books between 10:00 p.m. and 1:00 a.m.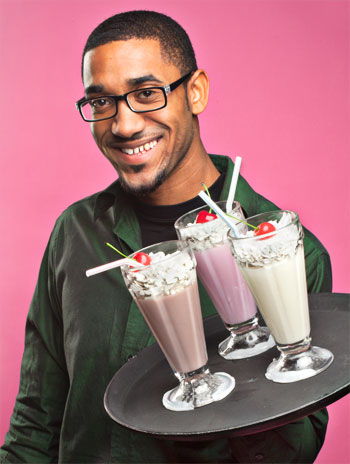 Members of the Kenyon College Entrepreneurship Club launched the enterprise in November 2011 with a $3,000 prize from the Innovation Greenhouse business-plan competition. Since then, the staff has grown from a handful of volunteers to eighteen employees making between two hundred and two hundred fifty Panini pressed sandwiches a week.
"The response has been fantastic," said economics major Sean Grant '14, president of the Nite Bites company. "We've heard a lot of compliments from juniors and seniors who have had nowhere to grab a late-night bite since they have been here. Lack of late-night food options was the number one complaint on campus."
Sandwiches and smoothies are the staples on a menu that includes dessert sandwiches, milkshakes, coffee, tea, cider, candy, and nuts. The recipes rely on standard deli fare, but their names lend a distinctive local flair.
For example, the Club Olin (ham, Swiss, mayo, lettuce, and tomato) plays off the nightclub-like hours at the Olin and Chalmers libraries, while the Gunder World (turkey, roast beef, ham, cheese, honey mustard, lettuce, tomato, and cucumbers) refers to the atmosphere and high jinks in Gund residence hall for first-year students.
Although Nite Bites delivers, its spot in Peirce Pub is a great place to hang out. "The space is awesome," Grant said. "We have four TVs, a pool table, a Foosball table, and a stage." A new, recently added Panini press cooks four sandwiches at a time instead of two. "That has improved our efficiency and made our customers even happier," Grant said.