Sight Unseen
Tom Tobin took the express train to blindness.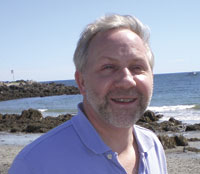 "When I was a junior at Kenyon I played on the soccer team and had 20/20 vision," he said. "And within a year my sight was at zero."
Of course, Tobin '86 knew that blindness was a possibility. He'd lived with Type I diabetes from the age of nine and understood the complications that often accompany the disease. But the diabetic retinopathy came on so suddenly- when he was twenty-one-that even months of laser surgery couldn't repair the damage that had already been done to his eyes.
When surgery proved futile, Tobin threw himself into a program at the Cleveland Sight Center to learn the skills he needed to live independently, a task that wasn't easy back in 1986. There was no such thing then as an Office of Disability Services at Kenyon, the Americans with Disabilities Act was still four years off, and technology was crude.
No longer able to take notes in class, Tobin taperecorded each session and returned to his dorm room to transcribe the lessons into Braille. He took exams in his room on the honor system. "I remember typing a paper for (Allan) Fenigstein's psych class and accidentally hitting the white-out tab about a third of the way through. So two-thirds of my paper was in white characters. But Fenigstein said, 'No, don't retype it, Tom. I think I can make it out.' A sense of humor definitely helped in those situations."
Though he graduated in 1987, Tobin is still technically a member of the Class of '86.
"My father guided me up the stairs on graduation day and as I received my diploma from President (Philip H.) Jordan, he told me, 'We're so proud of you! You did it!' The applause was deafening but I didn't know until I got back to my seat that it had been a standing ovation."
Tobin returned to Cleveland upon graduation, where he moved in with his aunt and volunteered to work at the Sight Center.
When he first lost his sight, he was forced to administer insulin with a 1920s-era glass syringe that made a clicking sound to denote two units of insulin.
At the Sight Center, he hung around the adaptive technology center. He knew what he needed to live independently. He just had to convince someone to invent it.
"I asked Dave in adaptive technology, 'Can you make this meter talk?' And he told me-he was blind by the way-'I can make anything talk.' The device he made was a prototype for the talking glucose meter."
Tobin's career has been one of advocacy on behalf of diabetics and the blind. He worked at the Sight Center from 1988 to 2001 and at the Hadley School for the Blind in Winnetka, Illinois, from 2001 to 2009, mostly in development. He returned to Cleveland in 2009 to work as the director of planned and major gifts for the Cleveland Society for the Blind (formerly the Sight Center).
Now, for the first time since 1988, Tobin is on the job market.
"If you're looking for someone with twenty-five years' experience as a professional fundraiser, I'm your man," he joked before becoming more serious.
"I've had three interviews and I truly believe that my blindness is a non -issue with all the technology I have at my fingertips. When I get into an interview, I go on the offense. I tell them, 'Forget the ADA. Ask me how I do my job blind.' Because that's an easy question for me to answer."
-Bill Eichenberger