Anatomy of an Athlete
In Other Words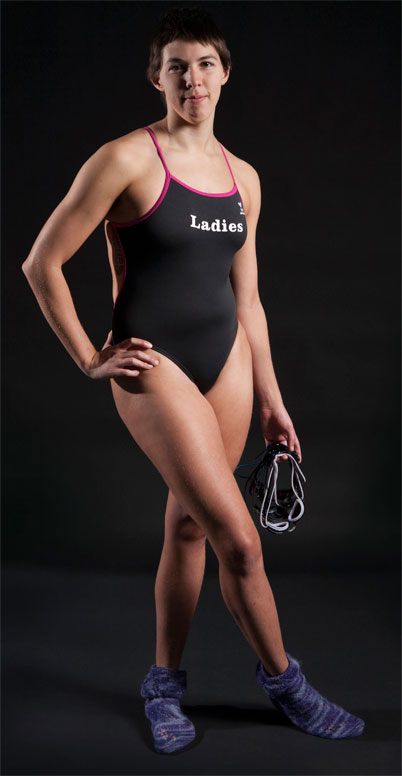 Hannah Saiz, an English major and senior on the Ladies swim team, devotes a good bit of her time to perusing, pondering, and sharing meaningful quotes.

She Googles them, borrows them from professors, ends e-mails with them, and occasionally analyzes them with her coach. "I like the way someone else's words can capture emotions I can't put a name to," Saiz wrote. "I like to know that someone else has experienced what I do now. "Some of her favorite quotes are stamped on dog tags that she wears around her neck. One reads, "Take every risk. Drop every fear." By putting words like those into action in the pool, Saiz has secured fourteen All-America awards, seven top-three NCAA finishes, and two Kenyon butterfly records
Others' words can take her in a different direction, too. Sometimes she'll listen to people's lightly uttered ideas and let them cook in her cranium until they become reasonable, at which point she carries them out. For Saiz, those types of off-the-cuff mentions have materialized into things like a tattoo, a purple mohawk, and participation in a sprint triathlon without any training. Adventurous and sometimes unconventional, Saiz keeps things lively.
Show Stopper
Saiz arrives at national championship meets well rehearsed for her performance in the water-and for her show on deck. She likes to play up to the crowd, her act involving plenty of cheering, dancing, hand-slapping, and even kissing teammates. Her wardrobe purposely veers toward the ridiculous, and last season she tied it together with a purple mohawk. "I know our team feeds off the energy on deck and I feed off the energy that's in the stands, so I feel that if I can channel a little bit of that back to my teammates, then it's worthwhile."
Clear the Air
It's not the prevailing technique in butterfly, but Saiz turned into a side-breathing swimmer her first season at Kenyon. The transformation began during a meet against Ohio State in which Saiz got caught next to another swimmer whose kick constantly splashed water in her face. For the better part of the race, Saiz went without breathing. She decided that, since she never really wanted to drown, she was going to figure out a way to prevent that from happening. She experimented with breathing to the side and things clicked quickly. In fact, over her next three meets, Saiz took her 200 butterfly time from 2:11 to 2:08 to a championship-qualifying time of 2:05.
Ink or Swim
Without infringing on the men's team tradition of getting tattooed with the Kenyon shield, Saiz wanted to do something similar, even if no one followed her lead. So, during her sophomore season, she got inked with the lowercase words "ladies swimming." The artwork runs down her right side and is outlined in purple. Of course, the idea was put in her head by a teammate who decided that, for herself, it was best to refrain from the whole permanence thing.
Pumpkin Power
With the intention of delivering faster times, Saiz says she is trying to do a better job with her diet this season. At the same time, she touts pumpkin pie as a vegetable. Between sessions at last year's Total Performance Invitational, she counted six slices of 'vegetable pie' as her meal and then went out and swam a best time. Naturally, there was a bit of a cooling-off period before she delivered the news to coach.
More Than Meets the Eye
About once a year, Saiz secures a new pair of goggles. The new ones don't replace any of the old ones; they are simply added to the collection. Before a session starts, when it's time to pick a pair, she turns to head coach Jess Book to make the decision. She says Book has his favorites, but Book maintains that he turns off his brain and the decision "is all about feeling."
Neat Feet
The purple socks Saiz knitted herself have become a staple in her on-deck attire for two years. She's been knitting for roughly a decade now, and the purple pair was made to replace the not-so-Kenyon-spirited bright yellow llama socks that she wore her freshman season. Saiz, who often knits on road trips, says "if it starts with an s, I've knitted it."