Woody at 100: The Woody Guthrie Centennial Collection
Produced & Annotated by Jeff Place '79 & Robert Santelli
Related Links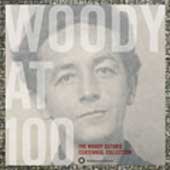 For more on Jeff Place read an interview with Judy Sacks. More...
Woody Guthrie is an icon of folk music, the very symbol of the singer-songwriter with a story to tell and a guitar with which to tell it. In the folk revival of the fifties and sixties, any respectable jam session included Guthrie classics like "This Land Is Your Land," "So Long, It's Been Good to Know You," and "Worried Man Blues." Folk music fans also know that Bob Dylan traveled to a New York hospital to sit bedside vigil with the dying Guthrie as he succumbed to late-stage Huntington's chorea.
Jeff Place '79, archivist for Smithsonian Folkways Recordings, and Robert Santelli, executive director of the Grammy Museum, bring Woody Guthrie to a broad audience in a visually dazzling, musically illuminating book/CD presentation. Prepared for the 2012 centennial anniversary of Guthrie's birth, this handsome oversized volume includes an introduction, an insightful biographical essay, and a host of interesting visuals: never-before-seen drawings and paintings by Guthrie, album covers, snapshots of Guthrie and his musical partners, rare handwritten notes, and typed song lyrics.
Three expertly curated music CDs present Guthrie throughout his recording and performing career. The recordings capture Guthrie's earnestness and wit, conveyed with simplicity, a style that has inspired countless musical descendants.
Good notes can vastly expand one's experience of a recording, and Place (who has several Grammys to his name) is one of the nation's most astute writers of song notes. In his clear and unromanticizing style, he illuminates the motives and historical facts underlying the songs. For example, in the notes to "So Long, It's Been Good to Know You," Place includes this explanation from Guthrie: "We watched the dust storm come up like the red sea closing in on the Israel children . . . Those who were religious thought it was the end, someone in the group said, 'So long, it's been good to know you.'" Likewise, Place provides an enriched view of "This Land Is Your Land." Generally heard as a sunny praise of the American landscape, the song actually includes a sly protest
against creeping privatization.
The main essay traces Guthrie's personal life and his professional career. Woodrow Wilson Guthrie was a complicated personality, a restless and curious man. Place observes, "People who knew Woody well understood that underneath the Okie veneer was a complex artist whose need to express himself was every bit as strong as his need to see the light and seek the truth."
A current pop favorite, old cowboy songs, a slang expression whispered by a child at play: all were potential source material for Guthrie. The book reproduces his handwritten snippets and private observations, perhaps to be used in a song someday. Guthrie frequently drew on old-time country music, pairing his lyrics with well-known tunes and redrafting beloved country songs.
Moses Asch, founder of Folkways Records, knew an original talent when he heard one. Place does a great job filling in the history of Asch's collaboration with Guthrie, including Asch's foresight in taping many of the performer's live radio broadcasts that otherwise would have been lost to posterity. Place highlights the evolution of Folkways
Records and the producers, musicians, and folklorists who played important roles in Guthrie's career.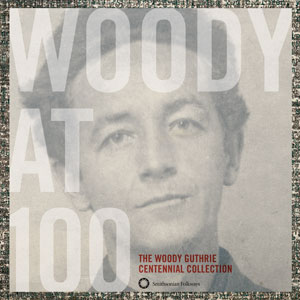 Of course, Guthrie is known for his protest writing. With the Almanac Singers, he wrote many songs against Hitler and Mussolini. In the postwar period he turned his attention to individual troublemakers on the right, along with predatory finance companies and corrupt politicians. Famously, Guthrie stickered his guitar top with the pronouncement "This Machine Kills Fascists." (Is Woody Guthrie the patron saint of Occupy Wall Street? Discuss.)
Woody at 100 is the most masterful presentation to date of this most distinctive American storyteller in song. It's a must-have for those who appreciate American folk music and social history.
-Judy Sacks, affiliated scholar in American studies
Editor's note: The Guthrie CD set was nominated for two 2012 Grammy Awards, in the categories Best Historical Album and Best Boxed or Special Limited Edition Package. For more on Jeff Place, see an interview with Judy Sacks at bulletin.kenyon.edu/woodyguthrie.
Gambier, Ohio 43022
(740) 427-5158