Alumni Digest
Writing in Your Profession: New Summer Workshops Debut
DO YOU SEE YOURSELF IN THIS PICTURE?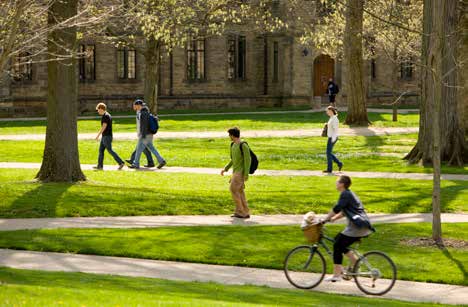 You're a medical or science graduate student, ready to write your first journal article. Imagine working with veteran researchers who can help you put your work into publishable form-in a weekend.
You're a playwright, or an aspiring one. Imagine perfecting your craft with the literary managers of Steppenwolf Theatre, the Atlantic Theater Company, and the Hampstead Theatre.
You're an art critic or art history professor hoping to hone your writing skills and explore new media. Imagine an intensive workshop with the Wall Street Journal's art critic and an eminent author.
You're a high school teacher, hungry to take your students to new levels in writing. Imagine a week at Kenyon working on new techniques and innovative lesson plans.
That's the picture in June 2013 at Kenyon, which welcomes a new program for adult writers: the Kenyon Institute. The intensive workshops, led by distinguished visiting experts together with Kenyon faculty, offer creative instruction in writing by discipline. A key feature in every case: participants create new work every day.
Four courses will be offered:
The Kenyon Playwrights Conference, June 16-22. A unique opportunity combining playwriting workshops and a partnership with three renowned theater companies-the Atlantic Theater Company of New York, Steppenwolf Theatre of Chicago, and Hampstead Theatre of London. Workshop participants will learn from Kenyon professors and the theater companies' senior artistic and literary staff. Three distinguished playwrights, commissioned by each company, will be in residence developing their plays, which will be showcased at the end of the workshop. James E. Michael Playwright in Residence Wendy MacLeod and Kenyon drama faculty will lead the program.
The Gund Gallery Critical Writing Workshop, June 16-22. An intensive workshop for graduate students, scholars, and journalists engaged in writing about art. Instructors include noted critics Peter Plagens, art critic for the Wall Street Journal, and Terry Barrett, Ohio State University professor emeritus and author of Criticizing Art, Interpreting Art, Criticizing Photographs, Why Is That Art?, Talking about Student Art, and Making Art.
The Kenyon Institute in Biomedical and Scientific Writing, June 13-16. A "boot camp" in writing for scientific publication, for doctoral students, M.D./Ph.D. candidates, and postdoctoral biomedical researchers. Professor of Biology Chris Gillen will lead the program. Instructors include Donald Fischman, M.D., emeritus professor of cell and developmental biology, Weill Medical College-Cornell University; orthopedic surgeon Pierce E. Scranton Jr., M.D., contributing editor to the Journal of Bone and Joint Surgery, orthopedic consultant to the Seattle Seahawks, and author of Playing Hurt: Treating the Warriors of the NFL; Barbara Lohse, Ph.D., R.D., L.D.N., associate professor, Department of Nutritional Sciences, College of Health and Human Development, Penn State University; and James D. Cox, M.D., division head and chair of the Department of Radiation Oncology at the University of Texas M.D. Anderson Cancer Center in Houston.
The Kenyon Summer Teaching Institute, June 9-15. For high school teachers, a workshop focusing on ways to get students to write college-level essays, led by Kenyon assistant professor of English Ivonne García and Randolph-Macon College assistant professor of English Marissa Cull.
The Kenyon Institute was inspired in part by the highly successful Kenyon Review Writers Workshop. The new programs are designed to overlap, so that writers from various disciplines can confer and learn from one another, and from those participating in the concurrent Kenyon Review programs. Participants will live in the College's new, air-conditioned North Campus apartments.
"The vision here is a community of and for writers, of and for adult learners," said Sarah Kahrl, director of the Institute and vice president for college relations. "It's a community that brings together people of diverse backgrounds and interests for a week full of writing, studying, readings, lectures, performances, and stimulating conversation-all on one of the country's most beautiful college campuses." Registration for the summer programs is open, and applications will be accepted in order of submission. For more information, see the Kenyon Institute Web site at www.kenyoninstitute.org, or contact Barbara Kakiris, marketing manager, for a full brochure and more information at kakirisb@kenyon.edu or 740-427-5101.
New Summer Program Offers Adults an "Education Vacation"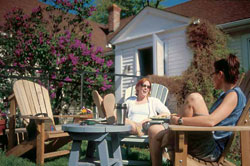 KENYON OFTEN INSPIRES alumni and parents to fall into a fantasy that goes something like: "I wish I could take a course from a Kenyon professor, have long intellectual conversations while strolling on Middle Path or relaxing in those Adirondack chairs, and work out at the KAC before a convivial dinner (prepared by someone else) in the Great Hall in Peirce."
That fantasy can now become real, thanks to a new summer program for adults that will be offered for the first time in June 2013. It's called the Kenyon Summer Seminar, and it provides a week-long "education vacation" in which participants can take one or two mini-courses taught by faculty members, while enjoying the campus and meeting like-minded learners.
"Imagine being back in the classroom with a Kenyon professor, reading and learning about their latest research and a subject that engages you," explained Sarah Kahrl, Kenyon's vice president for college relations. "After class, you'll be able to design your free time on the beautiful Kenyon campus, choosing from a menu of hands-on workshops complementing your subject matter, taking part in recreation in and around Kenyon, dining with new friends, or just enjoying a quiet read under the trees in a Kenyon Adirondack chair. "
The Summer Seminar is one of five programs sponsored by a new organization for adult summer learning called the Kenyon Institute. Of the other programs, three focus on writing in specific fields playwriting, art criticism, and biomedical writing and one is an in-service workshop for high school teachers. Institute participants will stay in the newly constructed, air-conditioned North Campus apartments.
"There's a real thirst among adult learners for programs like these, and we're delighted with the roster of ten courses developed by Kenyon faculty members, many based on new publications and research they've conducted recently," commented Kahrl. "The topics range from film adaptations of Shakespeare plays to the biology of exercise and fitness-we think there's something for every learner at Kenyon next June."
Register Now! On the web: www.kenyoninstitute.org
Contact: Barbara Kakiris '97 Kenyone Institute Manager of Sales and Marketing Email: kakirisb@kenyon.edu
Back to Cuba
Kenyon alumni association plans its second educational trip
Kenyon alumni will be returning to Cuba forthe alumni association's second educational trip,tentatively scheduled for January 4-11, 2014. All Kenyon alumni, parents, and friends are invited to participate in this unique travel opportunity. Professors of Spanish Victor Rodríguez-Núñez and Katherine Hedeen will accompany the group as faculty guides.
The group will travel by charter from Miami to Havana and stay in a luxury hotel in Havana. Each day will include the once-in-a-lifetime chance to meet architects, artists, museum directors, diplomats, students, and others and learn about the people and culture of Cuba. The itinerary will vary slightly as the trip is shaped, but tentative highlights will include:
• Architectural walking tour and educational exchange with architect Julio Cesar Perez in Old Havana.
• Meeting and discussion with former diplomat José Viera and his family, including discussion on the political climate in Cuba, to help Americans better understand the challenges facing Cuban civil society.
• Studio visits with some of Havana's leading independent artists, including Mario Miguel González, Niels Moleiro Luis, Alain Pino, Maria Cienfuegos, Frank Mujica Chávez, and Adrian Fernandez.
• Brief performance by classical music group Ars Longa, followed by an educational exchange with the performers to discuss the historical context of Cuban music.
• Visit to the Ludwig Foundation, one of only eight independently funded NGOs operating in Cuba; opportunity for dialogue with young Cuban artists and co-directors Helmo Hernandez and Wilfredo Benitez.
• Class and discussion with Cuban students at Instituto Superior de Arte, with Professor Gustavo de Valle, followed by a presentation of student art.
• Private tours of the Ceramics Museum, the National Museum of Fine Arts, the Museum of the Revolution, and the ISA, Instituto Superior de Arte.
• Private performances by Cuban musicians, dance companies, and theater groups, including Teatro Lirico and Catontores de Cienfuegos, with opportunities for educational dialogue after each performance.
• Travel by air-conditioned motor coach to Matanzas for a tour and exchange with the docents at the Fortress at San Severino, focusing on historic preservation in Cuba. U.S. travelers will also visit the Pharmacy Museum in Mantanzas.
• Meeting and book discussion led by famed Cuban author Leonardo Padura. Participants will read one of Padura's books and then have the opportunity to discuss the book with the author.
• Travel by air-conditioned motor coach to Varadero and Cardenas. Travelers will visit the family compound of painter Raul Rodrigues Peres and photographer Daylene Rodrigues Moreno, where they will meet the artists and discuss cultural art in Cuba.
• Private briefing on Cuban-American relations by a member of the U.S. Interests Section.
Want to go? - Trip details, including pricing, will be finalized later this year. To learn more about the trip, please contact Alex Compton, comptona@kenyon.edu.
Learn from an Olympian at Kenyon
Do you want to learn what it takes to be a successful triathlete? Come back to Kenyon in May to learn from Olympic gold medalist Sheila Taormina at the Elite Skill Development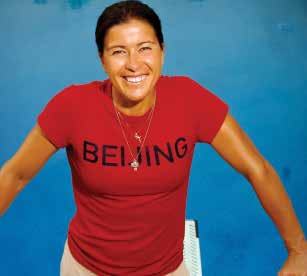 Camp. The camp, to be held May 30-June 2 in Gambier, has been organized by Jim Steen, legendary Kenyon head swimming coach and founder of Total Performance Sports Camps.
The camp is intended for triathletes of all ability levels and will feature Taormina and a staff of USA Triathlon-certified coaches.
Taormina has experienced six completely different disciplines on the Olympic stage swimming, cycling, running, pistol shooting, fencing, and equestrian show jumping. She will be sharing her unique perspective on the Olympic Learn from an Olympian at Kenyon experience, human potential, and the art of athletic performance.
Camp participants will go beyond the basics of swimming, biking, and running to craft technique in pursuit of new levels of excellence. Campers will participate in upwards of three workouts per day mixed with daily lectures. The first-class experience will include accommodations, catered meals, massage therapy, and yoga classes. The camp is limited to twenty participants, and early registration is recommended.
Camp fees range from $2,000-$3,000, with several housing options. For more information, go to www.tpscamps.com, or contact Emily Heithaus at heithause@kenyon.edu.
Call for Award Nominations
Nominations are open for alumni awards to be presented at Reunion 2013. Alumni Council will select award winners at its February meeting. All members of the alumni body are welcome to submit nominations for the following categories:
Gregg Cup, the highest individual honor, given each year in recognition of a history of service to the College.
Thomas and Mary Greenslade Award for members of the Kenyon family who demonstrate the qualities of affection for and loyalty to Kenyon.
Alumni Council Humanitarian Service Award for members of the Kenyon family who have demonstrated a lifelong commitment to humanitarian service.
Anne J. Robinson Award for outstanding regional association president(s).
Alumni Association Distinguished Service Award for volunteers for admissions, fundraising, career development, and regional association steering committees.
Nominations should be submitted by e-mail to shriverj@kenyon.edu by February 15.
Elect your representatives
As a member of the Kenyon College Alumni Association, you are entitled to vote in the association's annual election for Alumni Council members and alumni trustees.
How to Vote
Each member of the Kenyon College Alumni Association is entitled to submit one ballot. Ballots may be submitted in three different ways:
1. Detach and return the paper ballot by mail
2. Fax your signed ballot to 740-427-5454
3. Submit your ballot online at alumni.kenyon.edu/ballot. (You must be a registered user to submit an online ballot.) Your username will be considered your electronic signature.
Your ballot must be signed and received no later than Friday, April 12, 2013, to be counted. Election results will be posted on Monday, April 22, 2013 at alumni.kenyon.edu.
Alumni Council Candidates (Vote for up to four)
The candidates for Alumni Council are Colette Pichon Battle '97, Becky Hoyt '99, Jack Killen '71, Laura Paul '11, Rhoda Raji '02, and Chris Van Nostrand '02. Alumni Council meets at Kenyon three times each year to provide direct feedback to the Kenyon administration regarding alumni issues. All candidates are nominated by Alumni Council, and members serve a nonrenewable three-year term.
Alumni Trustee Candidates (Vote for up to two)
The candidates for alumni trustee are Andy Hull '85 and Geri Coleman Tucker '74. The Kenyon College Board of Trustees meets at Kenyon three times each year to provide strategic direction to the College. All candidates for alumni trustee are nominated by Alumni Council, and the winners serve a nonrenewable four-year term.
Gambier, Ohio 43022
(740) 427-5158