The Not-So-Super Market
by Shawn Presley
In his speech This Is Water ("Everlasting Speech,'' page 32) David Foster Wallace got it right: the supermarket sucks. It's never been a great place, but as stores grow larger and larger, carrying more and more items, presenting us with a suffocating number of choices, the experience of grocery shopping becomes even more soul-killing. It's the last place I want to be.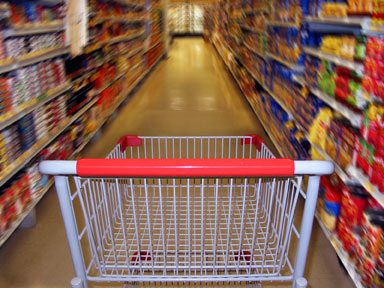 Despite my distaste for the supermarket, I'm there at least once a week. I see the old people in electric scooters
who often look as if they can't afford food. That's depressing, especially considering how much food is thrown away. Babies and children wail and cry, rankling my nerves.
The search for what's on my list can be futile. The kid stocking the shelves has probably never cooked a meal, so not only does he not know where to find the ginger root or capers, he doesn't even know what they are.
Research has begun to show that more isn't better, and too many choices can lead to anxiety rather than greater satisfaction. Do we really need dozens of brands of spaghetti sauce from which to choose? Orange juice comes fortified with vitamin D, calcium, vitamin E, folic acid, potassium, and even fish oil. You can buy it from concentrate, not from concentrate, reduced calorie-and the list goes on and on.
Experience in grocery shopping does help. I now know, for example, that nuts can be found in the produce section, the baking section, and the snack section. If you're shopping at one of the mega big-box stores, which can run more than 250,000 square feet, that's quite the hike if you miss the appropriate section for the nuts you desire.
Wallace let me know I'm not alone in the world when it comes to loathing my suburban journey to stock my pantry. I'm embarrassed to admit it, but I've almost been brought to tears trudging through the aisles. Wallace also let me know I have a choice of how I respond when I shop. I can be miserable via what he calls my "default" setting or I can choose other options. Wallace actually advocates that we can experience consumer situations as "not only meaningful but sacred, on fire with the same force that lit the stars-compassion, love, and the subsurface unity of all things."
I have my doubts that I'll ever reach this higher plane in the grocery store, but I can try.