Spicing Up the Servery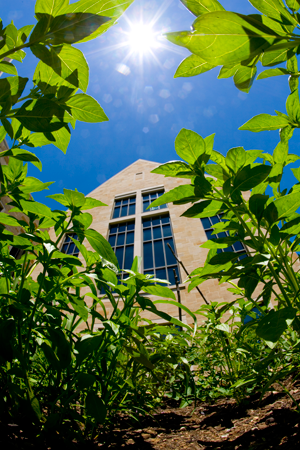 The local food movement in Peirce Hall can't get much more local than this—a backyard herb garden. "Our chefs can walk out there and just snip what they need for the day," said Damon Remillard, resident director of AVI Foodsystems, Kenyon's dining service.
Sarah Bush '12 of Mount Rainier, Maryland, and Jamie Katz '10 of Fort Wayne, Indiana, proposed the plot last fall to meet a project requirement for "Sustainable Agriculture," an environmental studies course that entails hands-on experience at local farms. The students received a grant from the Great Lakes Colleges Association and access to Kenyon resources such as the Biology Department greenhouse, where they grew seedlings for transplanting.
With help from the student group People Endorsing Agrarian Sustainability, volunteers recycled stone from a campus excavation site to build three six-by-twelve-foot raised beds, which they filled with topsoil enriched with composted Peirce food waste. They filled two beds with basil needed to make pesto, a popular vegetarian sauce. The other bed holds a potpourri of thyme, rosemary, parsley, sage, and some "creative and fun" herbs such as the sweetener stevia.
For now, the garden stands as a symbol of sustainability. It's too small to really put a dent in the thousands of dollars a year that AVI spends on herbs, but expansion promises to increase yields for years after founders Bush and Katz have graduated.