Suds and Sparks
Student entrepreneurs win funds for two start-ups: a laundry service and an electric motorcycle firm.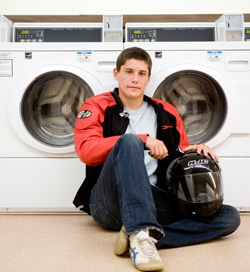 Seed money is flowing at Kenyon, as a new entrepreneurship program has awarded its first prizes to students with business dreams.
The winners: Laundry Luv, which will market a laundry service to students and parents; and ReVolt Electric Powersports, which intends to produce electric motorcycles. An advisory board of alumni entrepreneurs awarded each start-up a Burton D. Morgan Entrepreneurship Prize of $5,000. This is the first year the prizes have been awarded. They're part of Innovation Greenhouse, a College program funded through the Ohio-based Burton D. Morgan Foundation to cultivate entrepreneurial creativity.
Alice Adebiyi '11 of London, United Kingdom, and Stephen Haro '13 of Saint Louis, Missouri, both had ideas about a laundry service, and they formed a team to emphasize selling the service to parents. While Adebiyi has given up her role as a principal in Laundry Luv, Haro began running the service this fall. He is a Newman Scholar inspired by the story of the late actor and philanthropist Paul Newman '49, who famously ran a laundry business at Kenyon.
Laundry Luv customers can sign up at www.laundryluv.com for the full school year, a semester, or spot service. The company provides bags, which the customers fill with laundry and leave outside their rooms. Laundry Luv promises pick-up, cleaning or dry-cleaning, and delivery within forty-eight hours. A third-party vendor handles the cleaning.
Jordan Rhyne '13 of New Albany, Ohio, was the chief operating officer and one of two partners in ReVolt Electric Powersports (REP), which is based in Columbus, Ohio. REP was founded to design, manufacture, and market an affordable, attractive, and powerful electric motorcycle. A prototype is being developed. "Electric vehicles are the future," Rhyne said. "I think they're cool."
He got a practical taste of the business world when, after some business disagreements, he decided to sell most of his interest in the fledgling company to his partner in May. Rhyne retained a 2 percent interest and is on the advisory board.
Rhyne also felt he would have to leave Kenyon to dedicate enough time to product development. "I fell in love with Kenyon this year, and I wanted to come back and enjoy my time there," Rhyne said. "I improved my business skills, and that will stick with me."