Alumni Digest
Alumni Shuffle
Scott R. Baker '94 leads alumni office; Lisa Schott '80 takes helm of Philander Chase Corporation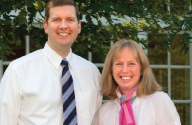 A familiar face has returned to Kenyon to lead the Office of Alumni and Parent Programs, while another figure known to generations of alumni has taken on a new role at the College.
Scott Baker '94, an active College volunteer and former president of Alumni Council, has taken the reins as director of alumni and parent programs. He replaces Lisa Schott '80, who has worked at the College since 1985. In July, Schott became managing director of the Philander Chase Corporation, Kenyon's land trust.
Schott's new role in an organization that has protected more than three thousand acres of land reflects her long-held interest in the College's surroundings. "The land is what brought me to Kenyon. Even as a student, it was important to me," she said. "The countryside was a draw for me when I came to work at the College, and working for Philander Chase is something I'm passionate about."
In addition to her leadership of the Philander Chase Corporation, Schott serves as senior gift officer in the Office of Development.
Baker's return is a homecoming in many ways. He worked closely with Schott during his eight years on Alumni Council, which included two terms as president. He has also served as an admissions volunteer and regional association president, and he received three alumni awards for his volunteer service to the College. A Toledo native who majored in drama at Kenyon, Baker previously led Baker Street Communications, a Web design firm that he founded in 1996, and he serves on the board of trustees of the Toledo Opera. He comes from a large Kenyon family, including his father, Richard Baker Jr. '69, his uncle, Tim Baker '71, sisters Shelly '96 and Laura '99, and brothers-in-law Neil Butler '95 and Shannon Wilkinson '96.
A Meeting at the Inn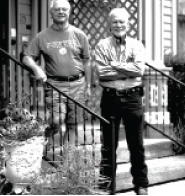 Ed Edahl '65, a New York City-based photographer, wrote to share his small-world story of meeting a fellow Kenyon alumnus. In April 2010, at a wedding in McLean, Virginia, Edahl was introduced to Tom Dvorak '63. Despite being close in age, neither remembered the other.
A month later, Edahl was passing through Gambier and decided to spend the night. Finding no ­vacancy at the Kenyon Inn, he called the Russell Cooper House in Mount Vernon.
"When I got to town," Edahl wrote, "I was walking around looking for the place when I heard someone call out, 'Hey Ed!' I walked over to the front porch of a large Victorian house, furnished with the innkeeper himself." The innkeeper was Tom Dvorak, who recognized Edahl from the wedding a month before. "I checked in and had a good time reminiscing about the good old days. Small world, indeed." Before leaving, Edahl (right) stood with Dvorak for a photo on the inn's front porch.
A Race, and a Kenyon Toast
Kenyon friends gathered at the Middleburg Spring Races at Glenwood Park Racecourse in Middleburg, Virginia, on April 17, 2010. Lauren Elliott Woolcott '73 (pictured, left) and Marci Barr Abbot '73, along with President S. Georgia Nugent (right), hosted a reception tent for Kenyon guests and toasted the College at the beginning of the fourth race. The Middleburg Spring Races is the oldest sanctioned steeplechase meeting in Virginia.
Bulletin Board
Save the Date
May 27-29, 2011
Reunion Weekend
Regional Association Gatherings
Thursday, September 23
New York City, with a talk by Professor of American Studies Peter Rutkoff and Professor of History Will Scott

Tuesday, October 12
Washington, D.C., with a talk by Professor of History Jeffrey Bowman

Tuesday, October 19
Chicago, with a talk by Associate Professor of Chemistry Scott Cummings

Monday, November 1
Columbus, with a talk by Professor of American Studies Peter Rutkoff and Professor of History Will Scott

Thursday, November 18
Boston, with a talk by Professor of Art Gregory Spaid '68 and architecture critic Paul Goldberger P'04

Tuesday, January 11, 2011
Baltimore, with a talk by Associate Professor of Political Science David Rowe

Wednesday, January 12, 2011
Philadelphia, with a talk by Associate Professor of Political Science David Rowe