The Perfect Storm-Maker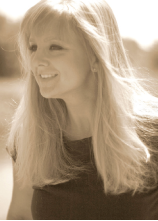 "What's the point in writing a novel if no one reads it?" asks Jenna Blum '92, gifted author and expert self-marketer. The latter skill has served her well in a world where books easily vanish in the cultural noise.
"Of course," Blum says, "there's an intrinsic value in writing a novel. But on a primary emotional level, it's about getting the book out there so that people will experience it."
This perspective drove Blum as she spent three years, full-time, promoting her first novel, Those Who Save Us, an effort that pushed the book to number 18 on the New York Times bestseller list four years after its 2004 debut. On her second go-round, with the May 2010 release of The Storm Chasers, Blum is using this experience, and her recently acquired multimedia know-how, to bring her fans and subjects to the center of the story.
Critics describe Blum's novels as meticulously researched, emotionally honest works. Those Who Save Us is a work of historical fiction that grapples with post-Holocaust German-Jewish identity. The Storm Chasers delves into two very different worlds—bipolar disorder and storm-chasing (i.e., people whose hobby is to seek out tornadoes). Blum credits Kenyon for cultivating her interest in both history and psychology, but she assumes sole responsibility for her complex characters.
"It's up to me to represent them to the world," she notes. "That's where shameless publicity comes in—these people deserve to be known."
So when her first novel seemed to be turning into a "friends and family edition"—purchased mostly by the author's kith and kin—Blum took it upon herself to build a wider audience. She amped up her Web site, and, at a student's request, led a discussion of her novel at a local book club. "I just asked that, if they enjoyed the book, they do me the great honor of passing it on," she says.
Soon, she was doing three book clubs a day, most in Boston but some as far away as Florida, paying her expenses out-of-pocket. A business-minded friend told her that it was acceptable to charge a small fee—less than the price of a first-run movie—and, lo and behold, she found herself making a living doing what she loved: talking about her characters. Over the next three years, Blum visited more than eight hundred book clubs in the Boston area alone. Her novel's subsequent commercial success made her a model for authorial self-promotion.
By 2009, when Blum sat down to revise and promote The Storm Chasers, the widespread use of social media had changed her marketing strategy. "Before, you could read the book, and then it was over," said Blum. "Now, I have access to this great online community of readers and writers." This time, Blum has been using Facebook, video clips, and Skype-hosted interviews to share everything about The Storm Chasers.
Her most visually exciting material comes from her work as a media correspondent for Tempest Tours, a professional storm-chasing expedition company that pursues violent weather from Texas to the Dakotas, covering Tornado Alley. Blum has been chasing storms as an amateur since she could drive, but she's accompanied Tempest since 2005, recounting the group's adventures in Boston Globe articles, an online diary, audio clips, and live-streamed video—making her novel's action and landscape instantly available to readers.
How does Blum balance the richly social part of her livelihood with the writer's need for isolation? She drafted The Storm Chasers in "lockdown mode," she says, but she relied on her readers' comments, questions, and messages for inspiration and social sustenance. She answered their questions "in-person" during her weekly Skype-hosted "brunch with Jenna." "I was in this little town in Minnesota, writing by day, maybe chasing by night, and they were with me," she said.
Blum balances "the big buffet" of the social-media world with her writing priorities by focusing on the things she would like to be doing anyway. She doesn't want to use up her "writer-battery" on wordy blogs, but she loves posting photos and videos, and delights in direct interaction with readers—including Q&As, thank-you notes, and the like. So she Facebooks up a storm, and is learning to tie all of her media platforms into a single stream, so she can be sure she's responded to every comment.
The Storm Chasers book tour began with a three-stage launch party for Blum's Tempest colleagues and Boston supporters. She will be staying with friends and driving through her fifteen-city "tourlette" in order to reach as many readers as possible. "Writing a book is such a communal activity," Blum said. "I want to recognize the people who did this."
—Lauren C. Ostberg '07