Art Couture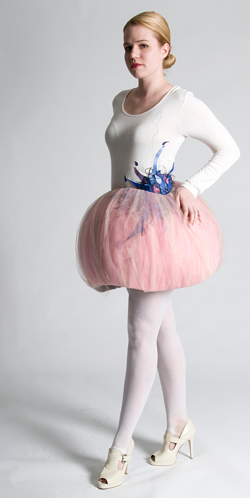 Thumping music, runway lights, preening models, and clothes decorated with papier mâché and floor dirt are not standard features of a Kenyon art class. But when it came time for the literally off-the-wall "wearable art" assignment in her new "Painting Redefined" course, Associate Professor of Art Karen Snouffer drew on reality TV and asked students to "make it work."
For the assignment presentation in April, Snouffer borrowed from Project Runway, the fashion competition show co-hosted by Tim Gunn, whose crisp style—and catch phrase—Snouffer copped to imitating a time or two during the process.
In designing their "wearable art," students were asked to reference a specific painting, artist, or painting process and to construct a piece that could be worn and also hang on the wall. "I wanted students to have this experience of understanding how so much art has grown from painting, even though it isn't painting in the traditional definition," Snouffer said. "It was forcing them to think about how it could be related to the body but also stand on its own as an object."
Any and all materials were allowed, which explains why Erin Mershon '12 could be found modeling her papier mâché pink tulle-covered bubble skirt. Artistic point of reference: the work of Shazhia Sikander, an artist skilled in Indian miniature painting.
Students strutted their creations to music selected by fashion-forward classmate Paul Reed '10, who would spend his summer interning with Narciso Rodriguez, designer to Michelle Obama. Three students not in the class lent their discerning eyes as judges.
For his piece, Daniel Lakin '10 was inspired by Patti Smith, punk rock, and the "bad art" movement of the punk era to make something "anti-fashion," as Snouffer put it. He bought a suit jacket from Goodwill, tore it apart, fastened it with safety pins, sewed crudely painted pieces of canvas to it, and finished it off by wiping it on the art-studio floor, "in a conscious effort toward intentional mess," Lakin told the Collegian.
Snouffer said she was "knocked out" by the work of the eighteen-student class, but couldn't convince the shy artists to show off their creations for the campus at large. Next year, she hopes to make the wearable-art showcase a public event.
Art students: start working on your runway moves.