Kenyon welcomes the Class of 2014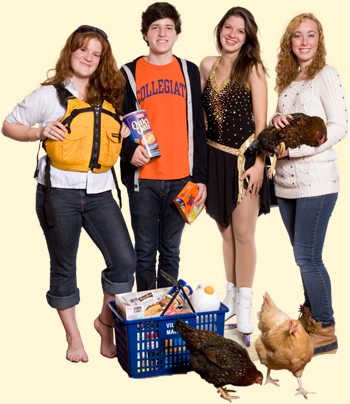 left to right: Avery Myers-Regulinski of Bellingham, Washington, traveled the world on a boat from ages 8 to 13. Asher Russem of New York City volunteered to live on a food-stamp diet for a week to experience the food choices available to recipients. Katharina Devitofranceschi of Stamford, Connecticut, was a member of a synchronized skating team that ranked second in the nation and qualified for the Synchronized Skating World Championships. Catherine Novack of Galion, Ohio, raised hogs and chickens for 4-H.
A polyglot, a Securities and Exchange Commission intern, and a nationally ranked synchronized skater were among 480 talented members of the Class of 2014 this fall.
The class was selected from a pool of 4,063 applicants. About 9 percent of applicants chose the early-decision option, with 179 of the incoming students, or 37 percent, having applied under early-decision plans. The overall admittance rate was 39 percent.
Women compose 55 percent of the class, men 45 percent. Domestic students of color make up 16 percent of the class. The students hail from 39 states.
Forty-one students coming from 21 countries bring international diversity to Kenyon, either as non-U.S. citizens, dual citizens, permanent residents, or "global nomads" who have grown up or spent significant portions of their lives in other countries. Another 51 are first-generation students, neither of whose parents received a four-year undergraduate degree. There are 69 "legacies" in the class, broadly defined as students having a relative who attended Kenyon.
Beyond the numbers, the intellectually impressive and broadly talented Class of 2014 brings a multitude of experiences, strengths, and passions to the Kenyon community.
Members of the class include a student who:
Collected 17,000 books to aid Invisible Children through a human-rights club.
Worked to bridge the Macedonian and Albanian communities.
Is a quadruplet.
Successfully petitioned for new legislation to move shipping lanes in order to help save the North Atlantic Right whale.
Made his professional theater debut at the age of 13 in an Off-Broadway production of The Full Monty.
Served as a board member of the City of Cambridge, Massachusetts, and also fought as a member of the Massachusetts Board for Persons with Disabilities to make a train station accessible.
Held an internship at a natural history museum doing entomological research, and another interned at the Securities and Exchange Commission investigating financial crimes.
Has independently studied Japanese, Chinese, Nepali, and Hebrew as a native English-speaker.
Created a prize-winning documentary on Lewis and Clark.
Photograph by Greg Sailor