Unbroken
by Laura Hillenbrand 1989, H'03, (Random House, 2010)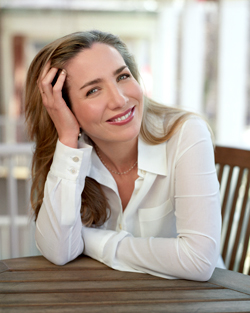 Unbroken, Laura Hillenbrand's second book and worthy successor to her runaway hit Seabiscuit, tells the story of another '30s athlete, Louis Zamperini. Emerging from a delinquent childhood, Zamperini channeled his boundless energy into running, rising to world-class status and even gaining notice by Hitler during the 1936 Olympics in Berlin. Zamperini's legendary running career was interrupted by his World War II Army Air Forces service as a B-24 bombardier. When his plane went down in the Pacific during a rescue mission, he and the pilot survived a record forty-seven days on a raft, fending off sharks and strafed by Japanese airfire, only to be captured by the Japanese Navy and subjected to unspeakable pain for the remainder of the war. The story of survival and forgiveness is both gripping and inspiring.
The Bulletin had a chance to talk with Hillenbrand about her inspiration, her method, and what her life is like after two decades of living with an often debilitating case of chronic fatigue syndrome (CFS).
Q. What drew you to Louis Zamperini's story?
A. Seabiscuit led me right to Louis, as though it were meant to be. As athletes, they were both all over the sports pages in California in the late '30s. As I did my research for Seabiscuit, I couldn't miss him. When Seabiscuit was done, I called him. That was the first of 75 phone conversations I had with him. His was the most incredible true story I'd ever heard.
Q. What resonated for you that will resonate for readers?
A. He was recalling these incredibly harrowing experiences, and yet there wasn't a trace of bitterness in him. He said he had forgiven the people who tortured him in Japanese POW camps. I probed to see if the forgiveness was real, and amazingly I saw that it was. That's why his story is noteworthy. He knows how to heal and embrace his life. Louie's is a story of resilience, optimism, hope—a man who is an exemplar of perseverance, proof that it's possible to overcome our particular personal traumas.
Q. Your descriptions of dramatic events put your reader right there in the scene. For a reader, the experience is more like reading a novel than a book of nonfiction. How do you accomplish that?
A. I do a lot of research and ask a lot of very detailed questions, not just of my living sources but of printed sources, too. The trick is to find the telling details that make a scene stick in your head. Then I'd also spend time living these scenes in my mind. I would imagine it as fully as I could: if a Japanese bomber was strafing at me, how would that feel? Then I'd verify what I'd envisioned with Louie.
Q. As a writer, what are your sources of inspiration?
A. I can't read books because of severe vertigo, but I listen to audio books, and ask myself what makes stories readable. History has to be a framework of facts, but we can apply storytelling to it. I write and rewrite, trying to find the best way into every chapter. I pay a lot of attention to how a chapter ends, how to draw one chapter into the next. Also, I read stuff aloud, make sure the rhythm is right. For five months while writing this book, I was listening to War and Peace. That story is so brilliant and a real barn-burner. Much of War and Peace is straight history. It shows how well someone can tell history if they work at it. The rhythm of good writers influences your writing without your knowing that it does.
Q. How did the experience of writing this book differ from Seabiscuit?
A. It was a great deal harder physically. I had an awful relapse [of CFS] that lasted two years. I was too sick to leave my house for two years. But it wasn't very different in terms of my process. Roadblocks happened, and I had to calm myself down. When I wrote Seabiscuit, I didn't have big expectations for it. My only goal was to do it well. It was the same with this one. I just thought, tell the story the best way you can and then you're a success whether it sells or not. I felt beholden to all of these men I was writing about. I felt a profound responsibility to capture who these people were. Many didn't live till publication, but they will live in this book.
Photograph by John Huba