High Seas Historian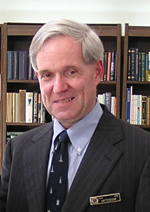 To turn a phrase from the United States' first well-known naval fighter, naval historian John Hattendorf '64 has not yet begun to write. "I have at least six more books I want to do—I can't count them all, just as I can't count the ones I've already published," said Hattendorf, the Ernest J. King Professor of Maritime History since 1984 at the U.S. Naval War College in Newport, Rhode Island.
For the record, Hattendorf is the author, co-author, editor, or co-editor of more than forty books about British and American maritime history and naval warfare. In 2005, the U.S. Naval Institute monthly magazine and flagship publication Proceedings hailed him as "one of the most widely known and well respected naval historians in the world."
Among the numerous awards for his scholarship, Hattendorf cited an honorary doctor of humane letters from Kenyon in 1997 as a "career highlight." The American Library Association recognized the quality and significance of his work in 2008 when it honored the four-volume Oxford Encyclopedia of Maritime History with its Dartmouth Medal for the outstanding academic reference work of the year; Hattendorf was its editor-in-chief. "That was an unusual award for a small field like mine because it usually goes to a discipline of more general interest," he said. To prove it, past winners have included Pop Culture Universe and Women in World History.
Hattendorf began his romance with the sea as a youth at the family's summer home on Portage Lake in Michigan, where his father taught him to sail. "I had a choice between getting a car or a sailboat for my sixteenth birthday and I took the boat," Hattendorf said.
His affection for the sea coupled with an interest in writing set the course for his career. His father and father-in-law worked in the newspaper industry—"I had newspapering in my blood," he said—and Kenyon immersed him in literature, inside and outside the classroom. P.F. Kluge '64, future writer-in-residence, was a roommate, and future English Department professor and chair Perry Lentz '64 was a classmate and fraternity brother.
While working as a bartender for English faculty parties, Hattendorf met visiting luminaries such as Robert Frost and Robert Lowell '58. Influenced by his Kenyon years, the historian maintained a professional attentiveness to fiction, writing readers' guides to the popular series of Royal Navy adventure novels by Patrick O'Brian (Master and Commander), among other works on naval fiction.
Hattendorf was a young naval officer in 1972 when he first joined the faculty at the Naval War College, a graduate institution that trains mid-career officers from all over the world to think critically about warfare. "The college has a shocking name," he said. "My children asked how I can work at a place like that. But if you think of warfare as one of the major plagues on human history, it is an issue that needs to be examined and discussed by the best minds possible."
In truth, battles are a small part of the Navy's past and present. "People just don't have any idea what the navy is doing," Hattendorf said. "The whole range of naval activities—protection of trade, dealing with piracy, humanitarian relief, exploration, and contributions to science—has not been recognized or fully appreciated in general history."
Hattendorf earned a master's degree in history from Brown University in 1971 and completed his doctorate at Pembroke College, University of Oxford, in 1979. He is on a mission to raise the profile of maritime history in the nation's colleges and universities. The popularity of nautical museums and novels by writers such as O'Brien and C.S. Forester reflects a public interest in naval history unmatched in academia. "It's hard to find anyone in an American university doing work in the field," Hattendorf said. "It has a stronger tradition in England, which is why I went there to do my doctorate. One of my central goals is to widen the public's historical interest in the navy into the academic community." Toward that end, he has been engaged in National Endowment for the Humanities programs at Brown University and Mystic Seaport to give established teachers backgrounds in maritime history.
Although it's funded, staffed, and operated by the Department of Navy, the Naval War College fully values academic freedom and critical thinking, "like any college," Hattendorf said. "I can say what I want to say. My writings are not official statements from the Navy, but my own academic views. I have to be objective to keep up my professional reputation." He calls maritime history "a subject that touches on both the great moments of the human spirit as well as the worst, including war." A life devoted to the study of each, he said, "has been fulfilling in every way."
—Dennis Fiely