Material World, Bacterial Culture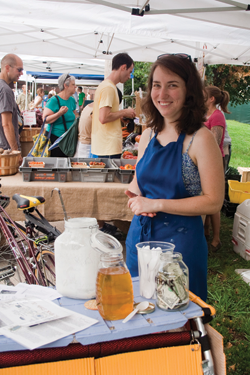 Annie Lambla '07 has experienced a considerable share of art and civilization. In the relatively short period since she graduated with a synoptic major in museum studies and material culture, the Charlotte, North Carolina, native has soaked up a variety of cultures, working as a gallery assistant, a photography instructor, an anthropology research assistant, a farm worker in France, and a newspaper copy editor in Turkey.
These days, however, the culture that most interests Lambla is produced not by people, but by bacterial fermentation—in the form of artisanal yogurt. Last August and September, she completed a four-week trip pedaling her yogurt from Chicago to Gambier and back, stopping at farms and farmer's markets along the way.
"Pedaling" isn't a typo: Lambla conveyed her yogurt by bicycle, hauling a kid's trailer rigged with a tarp, cooler, table, and all the equipment needed to heat and incubate milk. Intensive prep work went into this set-up, testament to the determination Lambla would need to cycle 750 miles through the Midwest—and to her innate enthusiasm for logistics.
"One of the ways all of my disparate interests and missions are linked is my passion for understanding how things work," Lambla says. "This is true for bicycles—hence my love of bike mechanics—and food." Her Web site, yogurtpedaler.com, documents weeks of experiments in the effort to find a road-worthy yogurt-making method. The tinkering involved measuring heat conduction through ceramic versus glass and calculating ratios of Streptococcus thermophilus to Lactobacillus bulgaricus, the bacteria that produce yogurt.
Yogurt, as Lambla describes it, is not difficult to make. "You heat your milk—some people say boil, some not," she says. "Then cool it to 120 degrees. You should be able to keep your finger in for two to three seconds. Stir in a few tablespoons of your favorite kind of yogurt—your choice—and incubate overnight for six to ten hours at a little above body temperature." On the road, of course, it's a little more complicated. Lambla perfected her mobile method by using three tin cans balanced on a ceramic plate over a tea light, all coddled inside a cooler and wrapped with tea towels.
As the Yogurt Pedaler, Lambla made it part of her mission to get milk straight from the source. Her first farm stop was at Kilgus Farmstead in Fairbury, Illinois, where she got her hands on 4.5 percent true whole milk from Jersey cows. Camping in the Kilguses' backyard, Lambla huddled over her camp stove with the six-year-old daughter of one of the farm families, explaining the process. At her mid-September stop in Gambier—her first trip back to Kenyon in three years—Lambla met with John Marsh for a tour of the new Peirce dining hall kitchen, and discussed possibilities for on-site yogurt-making.
Back home in ­Chicago, Lambla helps run a small grocery store called Open Produce, and part of her overall ethos is to get people reinvested in where their food comes from. Yogurt works well as an entry point, she says, because "it's simple, magical, tasty—and there are so many things you can do with it."
The Yogurt Pedaler enterprise reflects Lambla's conviction that food, especially street food, is a natural community builder. Childhood travels with her architecture professor father inculcated a love for public spaces and community. She spent the winter of 2009-2010 as a research assistant at the Metropolitan Planning Council (MPC) of Chicago, where she worked on a project promoting the building of great public spaces as foundations for vibrant communities. "These beliefs and dreams were also inspirations for the Yogurt Pedaler," she says.
Finally, and perhaps most importantly to Lambla, the yogurt project was about inspiring people to "make stuff with their hands." Art, science, experimentation: all begin with a willingness to get one's hands dirty. As Lambla concludes on her blog, "Creating and experimenting and asking questions and discovering answers are all a necessary part of the process, which is ... not the artistic, scientific, or any one particular process working independently, but it's all of them at work together."
—Traci Vogel