Going the Extra Mile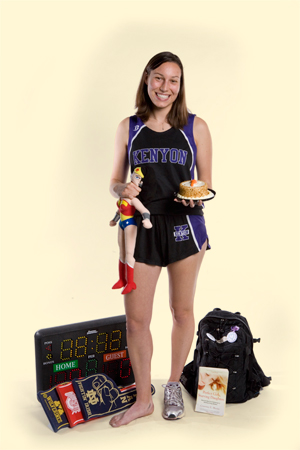 Lauren Metzger could not run in the 5000-meter race at the 2010 North Coast Athletic Conference Track & Field Championship, a two-day event held at Ohio Wesleyan University. The race was scheduled for Saturday, the same day she needed to present results of her honors studies in psychology at a conference in Chicago. Bypassing her specialty, Metzger instead pulled double duty and ran the 10,000-meter race, which was slated for Friday. Although the length was outside of her racing realm, Metzger clocked in with a second-place time of 40:28.94. After that, it was off to Chicago.
That whirlwind of activity affirmed Metzger's versatility. Now a senior standout on the Ladies cross country team, as well as the indoor and outdoor track and field teams, she can look back on an athletic career crammed with highlights, including all-conference, all-region, and team most valuable player awards. Through it all, those athletic accomplishments never weighed down the significance of her studies. In fact, at the conclusion of her junior season, Metzger was named an All-Academic honoree by the United States Track & Field and Cross Country Coaches Association. Here's a more detailed look at what makes Metzger run...
Photo by Greg Sailor