The Hot Sheet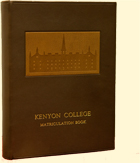 Ageless Autographs: The Class of 2014 signed their names in a new volume of the Matriculation Book. Donated by students in the Class of 2010, the book is bound in goatskin leather and built with hand-sewn pages made of acid-free paper. Gold-stamped lettering and an image of Old Kenyon highlight the cover design by visiting instructor of art and longtime community member Ellen Sheffield. The volume is only the third begun since 1841 and the first since 1958.
Fast Talkers: Kenyon's international students offered one-hour speed language training in ten of their native tongues, ranging from Turkish to Korean, as part of International Education Week in October. The students covered greetings, pick-up lines, compliments, jokes, and emergency phrases. Do you know how to ask for more toilet paper . . . in Italian?
Fabulous Fulbrights: For the seventh consecutive year, Kenyon has been recognized as a top producer of winners of the J. William Fulbright Fellowship among liberal arts colleges. In the category of U.S. baccalaureate institutions, the College ranks third in the number of 2010-11 Fulbright winners it produced.
Colorful News: The Collegian made its fall debut in color. The reporting was equally colorful.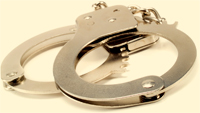 All Things Considered: National Public Radio correspondent Linda Wertheimer gave a campus lecture titled "Where Did the News Go?: From Brokaw, Jennings, and Rather to Beck, Maddow, and Stewart." Wertheimer urged the audience to "take notes when Glenn Beck speaks . . . because he doesn't."
Future Felons: Several campus offices teamed with the sheriff of Knox County to host a discussion titled "I was named in a Community Advisor/Safety/Sheriff's Report! What happens now!?" Do we sense a future Bulletin theme: Kenyon alumni behind bars!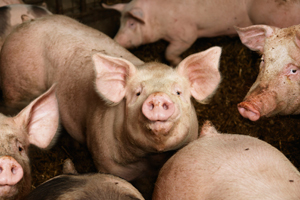 Some Pigs! The food service's director of sustainability kept pigs on his property during the fall semester and enlisted Kenyon students to help care for them. Sadly, Charlotte did not weave her web, and the pigs were slaughtered to provide food in the dining hall.
Vegan Voting: Kenyon competed to become the nation's most vegan-friendly small college campus in a Peta2-sponsored voting competition. The College made it through several rounds but was eventually knocked out of the running. Duh! Our students are leading pigs to slaughter!