Volume 33 Number 3 Spring/Summer 2011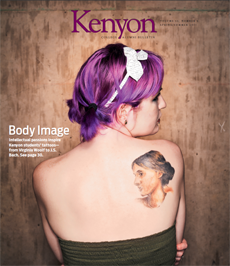 In this issue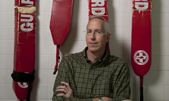 The amazing streak has ended, but in a way that only underscores Jim Steen's legacy as a coach—not just of swimmers but of other coaches.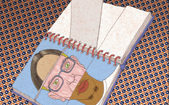 Living with Facebook, alumni discover new opportunities, but also questions and complications.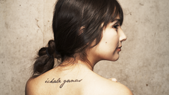 Intellectual passions inspire Kenyon students' tattoos.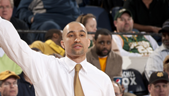 Shaka Smart '99, a quintessential student-athlete at Kenyon, coaches his way into the Final Four.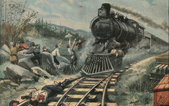 Stuart Pierson's gruesome death during a fraternity initiation in 1905 sullied Kenyon's name, tested its president ... and remains a mystery.
Kenyon In Season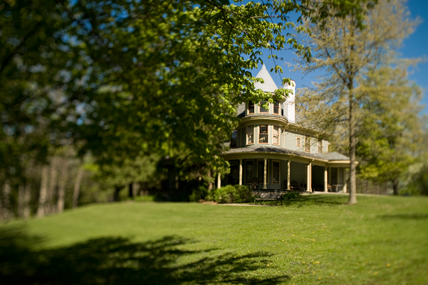 Departments
The Editor's Page
Along Middle Path
Kenyon's culinary director cooks for a post-Oscar party.
Raccoons, random complaining, and five other things we love about Kenyon.
Books
Office Hours
A biologist brings out the giant ape in his students.
With sudden speed this spring, people across the Middle East rose up to reshape their world. The Alumni Bulletin asked Provost Nayef Samhat to help put the events in perspective.
With spears, cowhide, and "ballistics gel," a professor and student test a theory on Neanderthal technology.
Alumni News
Not many Kenyon graduates face a career decision quite like this one: environmental activist or professional football player?
Joy Eckstine '89 is a social worker with the soul of a poet.
At an age when many people are struggling with memory, ninety-two-year-old Harold Wilder '41 is helping others recover and develop theirs.
Charles Adams '58 of Vermilion, Ohio, sent us this story of a close call with disciplinary officers at Kenyon and Wooster in his college days.
The Last Page
Gambier, Ohio 43022
(740) 427-5158