A Taste of Hollywood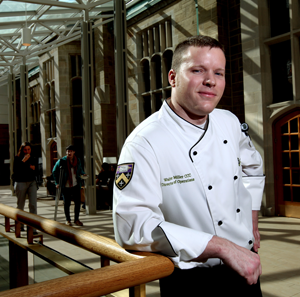 Hollywood royalty got a taste of what Kenyon students may take for granted when Walter Miller traveled west to cook for the Governors Ball after the Academy Awards on February 28.
Miller is the culinary director at Kenyon for AVI Foodsystems, the College's food service. He joined chef Wolfgang Puck, who has long catered one of the most prestigious post-Oscar parties for 1,500 celebrity guests.
He helped make vegetable risotto paella, roasted Dover sole with fennel and olives, and the perennial "Oscar" flatbreads—crispy crusts shaped like the statuette and topped with smoked salmon, crème fraiche, and caviar.
"It's a volunteer thing," Miller told the Columbus (Ohio) Dispatch. "The stuff I learn and see is worth what they would pay me."
Timing helped Miller land the gig. Before taking the Kenyon job, he was employed by the Compass Group to handle food service at Marietta College. In 2008, after learning that the company also owned Wolfgang Puck Catering, he expressed an interest in the ball. Puck interviewed him by phone.
This was the third year that Miller helped. And he has met a few celebrities along the way. "The first year, I was working the salmon buffet when Martin Scorsese came through. It was kind of surreal." He also ran into Leonardo DiCaprio—literally—when he walked through a door right into the actor.
The big star in his mind, though, is Puck. "He's a real nice guy. He schmoozes a lot, but, right before we serve, he tastes everything."