This is New York City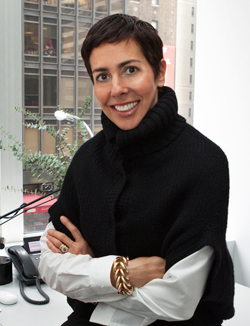 Let's see, where should we go today—the Empire State Building, the Bronx Zoo, Rockefeller Center, Prospect Park, Ellis Island, or any one of New York's more than 23,000 restaurants, 100 museums, or 40 Broadway theaters?
Oh, the heck with it. Jane Reiss '83 P'14 has an idea. "I could go on and on about all there is to do, but sometimes I just like to watch people and get out and walk, over the Brooklyn Bridge or from downtown to uptown. There is always something different to see."
Reiss loves—and knows—New York. Not only was she born and raised in New York City, she is chief marketing officer of NYC & Company, the official marketing and tourism organization for the city of New York. Reiss is responsible for overseeing domestic and international marketing efforts, including a Web site (www.nycgo.com), the Official New York City Information Center, and eighteen offices around the world. In 2007, she coined the tagline "This is New York City."
Forgive her if she speaks in superlatives. The city is "amazing ... phenomenal ... incredible ... wonderful," she said at various times during a thirty-minute conversation. Last year, her enthusiasm translated into a record-setting 48.7 million visitors who made an economic impact of roughly $46.5 billion.
New York would seem like an easy sell. But there are challenges, such as the task of distilling the city's myriad sites and activities into a manageable menu. "All of these choices can seem overwhelming," she said. "Part of our job is to make sure these attractions are accessible to people and give them the tools to navigate across all five boroughs."
Reiss wants you to know that New York City is friendly, safe, and enjoyable on any budget. ("Free in NYC" is one of the most popular categories on the Web site). "The city is a very different city now than when I was growing up here," she said. "The (negative) stereotypes have been so diminished over time that they are no longer issues."
She's a city girl through and through, but Kenyon runs through her veins. Her husband Dan Shefelman '84, feature film artist and former political cartoonist, is an alumnus, and the couple's daughter Lena Shefelman '14 is a student. The couple also has a fifteen-year-old son, Will.
"I went to Kenyon because I was interested in writing and Kenyon has the most incredible English department," Reiss said. "Even though there does not seem to be a direct path from English major to chief marketing officer, my Kenyon years play a fundamental role in how I view what I do every day-with a lot of curiosity, analysis, broad thinking, and a refusal to blindly accept the status quo."
—Dennis Fiely