Miss Peregrine's Home for Peculiar Children
by Ransom Riggs '01, Quirk Books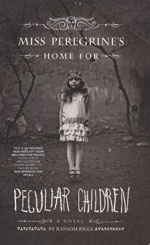 Fifteen-year-old Jacob Portman, heir to the Smart Aid drugstore fortune, is having an uninspired summer until he gets a phone call from his grandfather. "They're coming for me, understand?" the old man rants. "I don't know how they found me after all these years, but they did."
Rushing to calm what he assumes is senile delusion, Jacob finds his grandfather collapsed, mortally wounded, in the woods behind his house, and spots something running away through the undergrowth: a monstrous being with eel-like tongues and "eyes that swam in dark liquid." With his last breath, his grandfather whispers a cryptic clue: "Find the bird. In the loop. On the other side of the old man's grave."
All his life, Jacob's grandfather has told him fairy tales: about children who can float, lift boulders, and create fire out of thin air. He even has photos that serve as proof. But as Jacob grew older, the photos took on the sheen of fakery, and the stories lost their charm. Now, reeling after what he's seen in the woods, he's no longer sure what to believe.
In his first novel, Ransom Riggs conjures a fascinating dream world with just enough reality mixed in to keep things interesting. The result reads like young-adult fantasy with the psychological depth to appeal to adults. As Jacob navigates a world that has suddenly become deeply uneasy, he finds photographs that are reproduced in the book. These sepia-tone photos, many of which look like turn-of-the-century vaudevillian postcards, lend an eerie palpability to Jacob's fears, but also feed his hopes—that his grandfather wasn't crazy, that he himself might find a mission in life, that there is meaning beyond the dull everyday.
Riggs' beautifully produced novel is set to be published in June by Quirk Books, which gained renown after putting out the bestselling Pride and Prejudice and Zombies. Like that book, Miss Peregrine's Home takes something familiar and holds it up to a funhouse mirror. In Riggs's case, it's World War II that gets an alternative explanation. Jacob finds that the monstrous is not simply an allegory, and that his grandfather's heroism lay in accepting a gift others might see as an affliction. Whether he, too, can accept his destiny develops as an urgent focus in a page-turning ending that leaves (dare we hope?) room for a sequel.
—Traci Vogel