Give it another shot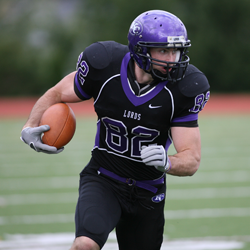 Not many Kenyon graduates face a career decision quite like this one: environmental activist or professional football player?
For now, football is in the future of Harry von Kann '10, a standout wide receiver for the Lords who signed a free-agent contract in March with the Edmonton Eskimos of the Canadian Football League.
"I figured that if I didn't pursue football now, I would regret it later," said von Kann, who expects to play receiver for the Eskimos. "I knew that it was my last shot, and I just want to pour everything into it and see how far I get."
Von Kann is "one of just a handful" of Kenyon players who have ever signed on to play professional football, said Martin Fuller, the College's sports information director.
Growing up in Washington, D.C., von Kann dreamed of becoming a professional soccer player. He didn't start playing football until he was a junior in high school, and he wasn't sure he wanted to play football in college.
But he thrived on the field at Kenyon, becoming a four-time All-North Coast Athletic Conference selection and a two-time All-Ohio first-teamer. He was good enough that, after his senior season, he attracted the attention of several National Football League teams, and he had the opportunity to try out as a free agent.
"But I wanted to enjoy a semester at Kenyon without sports, and I wanted to raise my GPA," said von Kann. So he spent his final spring away from the field, sacrificing the chance to try out for the NFL.
He planned on pursuing a graduate degree that combined public policy and environmental studies, and started out by landing an internship at the Anacostia Watershed Society in Bladensburg, Maryland.
But then he had his epiphany. "It was just a thing that hit me one day," he said. "I was doing some basic intern work, putting data in an Excel spreadsheet, when I thought I would really like to give football one more shot."
Things happened quickly from there. He enrolled in a football camp in Florida, where he had the opportunity to work out with other college players and ex-players who wanted to see if they had the right stuff to make it in professional football.
"That experience really raised my confidence. I was able to see firsthand that I could compete with the guys who went to traditional football schools."
And the rest is history, as least so far. The Eskimos' training camp opened in May, with a season opener scheduled for June 17 against the Saskatchewan Roughriders.
"I've been antsy ever since I signed," said von Kann. "I'm ready for whatever."
—Jeff Grabmeier