Writers Find Happy Medium on Radio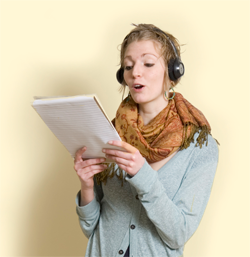 The allure of writing for Kenyon Credenza seems impossible to resist. "Do it for fame. Do it for glory. Do it for freedom," implored Hannah Withers '11 in a November e-mail to the student body.
Students have responded. The fortnightly radio program devoted to student prose and poetry has doubled its number of submissions, shows, and staff members since its fall debut. "I think we are becoming a name on campus," said founder and host Kate Kremer '11, who coproduces the program with Withers. "We have to turn writers away."
The one-hour show, known by its nickname "Kenyon Cred," airs alternate Saturdays at noon on WKCO (91.9 FM). Kremer credits its popularity to an affiliation with the Kenyon Review, the novelty of writers reading their works on the air, and a spirit of playfulness. "There's a sense that we are workshopping these pieces," Kremer said. "They're not intended to be as polished as published works, but they help our writers improve."
To stir creative juices, the producers circulate often whimsical prompts via e-mail and the show's Facebook page. Examples: "Things that Start with 'Mer' " (honoring the November campus visit by U.S. Poet Laureate W.S. Merwin) and "Broken Record to Record Breaking: Re-verse of Fortune" (to ring in the New Year). In truth, just about anything goes. "We welcome fiction, poetry, criticism, reviews, interviews, plays, essays, music, nonfiction, half-truths, sound collages, celebrity impressions, general lists, and verbal doodles," Kremer said.
Faculty, staff, and community members are welcome to submit, too. Support comes from the Kenyon Review Associates, the student group that works with the Kenyon Review.
Kenyon Credenza is part of a renaissance at WKCO, which has recently introduced new programs, a redesigned Web site with downloads available, and a live global stream that allows anyone to listen to the station over the Internet.