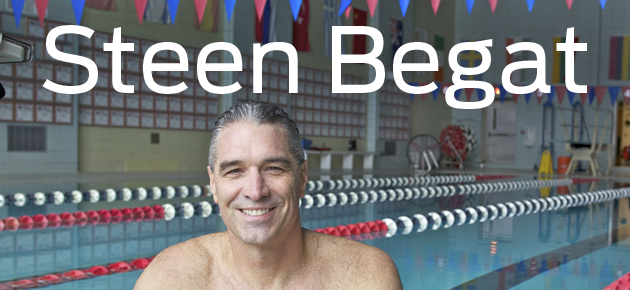 Thirty-one straight national championships in men's swimming, NCAA Division III. Kenyon's extraordinary streak still stands as the greatest run in all of collegiate sports. It ended this March, in high drama, when perennial rival Denison University took the title, beating Kenyon by a single point. Denison's victory is a tribute to its outstanding coach, Gregg Parini. But it's also a tribute to Steen, because Parini is ... yes, a Kenyon Lord, Class of 1982, one of Jim Steen's champions.
And he's not the only former Kenyon swimmer who followed Coach into coaching. A striking number of Lords and Ladies have coached, either as professionals or volunteers—and at every level, from club and YMCA, to high school, to college, to Division I university. Carrying with them such cherished Steenisms as "Get comfortable with the uncomfortable," they push, mentor, and inspire young athletes, much as Steen inspired them.
Here, then, is a celebration of the coaches that Steen begat. In addition to listing alumni swim coaches, we offer profiles of three who deserve special mention. One is Parini, whose Denison women have also won the national crown. Then there's Jon Howell '90 at Emory University; his women's team won their fourth national title this year. Jessen Book '01, meanwhile, returned to Kenyon last fall to become head coach for the Ladies, as Steen stepped back to focus exclusively on the men's team.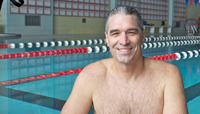 When the cheers finally died down and Gregg Parini had a chance to reflect, he called his team's victory a testament not only to hard work but also to "the power of imagination." In a meet that came down to the final event, the Denison swimmers beat Kenyon by one point, ending the Lords' thirty-one-year winning streak. So it was fitting, in a way, that Parini used the word "imagination," an idea always pushed by Kenyon coach Jim Steen.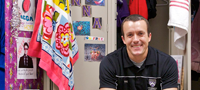 When Jessen Book '01 succeeded Jim Steen last year as head coach for the women's swim team, he wondered about, but didn't agonize over, the obvious: Steen would be a very tough act to follow. "To be honest, I did think about the challenges of following Coach Steen when I applied for this job," said Book. "But Kenyon has always spoken to me. I love the mission of this college and the foundations of this swimming program. I am part of this place, and it is part of me."
Steen's legacy rests not only on his 31 consecutive championships. He has inspired a generation of leaders. These former Kenyon swimmers have coached teams of their own.
Swimming alumni who go into coaching often find themselves repeating some of those Steenisms—realizing, as they exhort their own athletes, "I sound just like Coach." Here are some of their favorite pearls of wisdom from the master.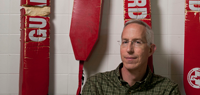 When Emory University was sifting through coaching résumés back in 1998, it wasn't surprising that it picked a member of Kenyon's athletic hall of fame. Jon Howell '90 was an eleven-time NCAA individual event champion at Kenyon and he had served as an assistant coach under Jim Steen; he had even called the shots for a year as interim coach when Steen was on sabbatical.